Hailey Bieber is looking back on her major health scare on the one-year anniversary.
The 26-year-old model took to Instagram Stories on Friday night to mark the first anniversary of her "life-changing" medical emergency that led to her discovery that she had patent foramen ovale – a heart condition in which a hole is present between the left and right side of the heart. Re-sharing a video where she opened up about the terrifying experience, Hailey wrote:
"Can't believe it's been one year since I suffered a mini-stroke that led to my PFO diagnosis. Given that it's the one-year mark from such a life changing event, I wanted to share all the information I've learned about PFO and share resources to donate."
Related: Selena Gomez Says Her 'Heart Has Been Heavy' Amid Hailey Drama!
She then went on to share some more facts about PFO from UCLA Health, including that it is "the most congenital heart defect" and affects "20% of all people." Ch-ch-check it out (below):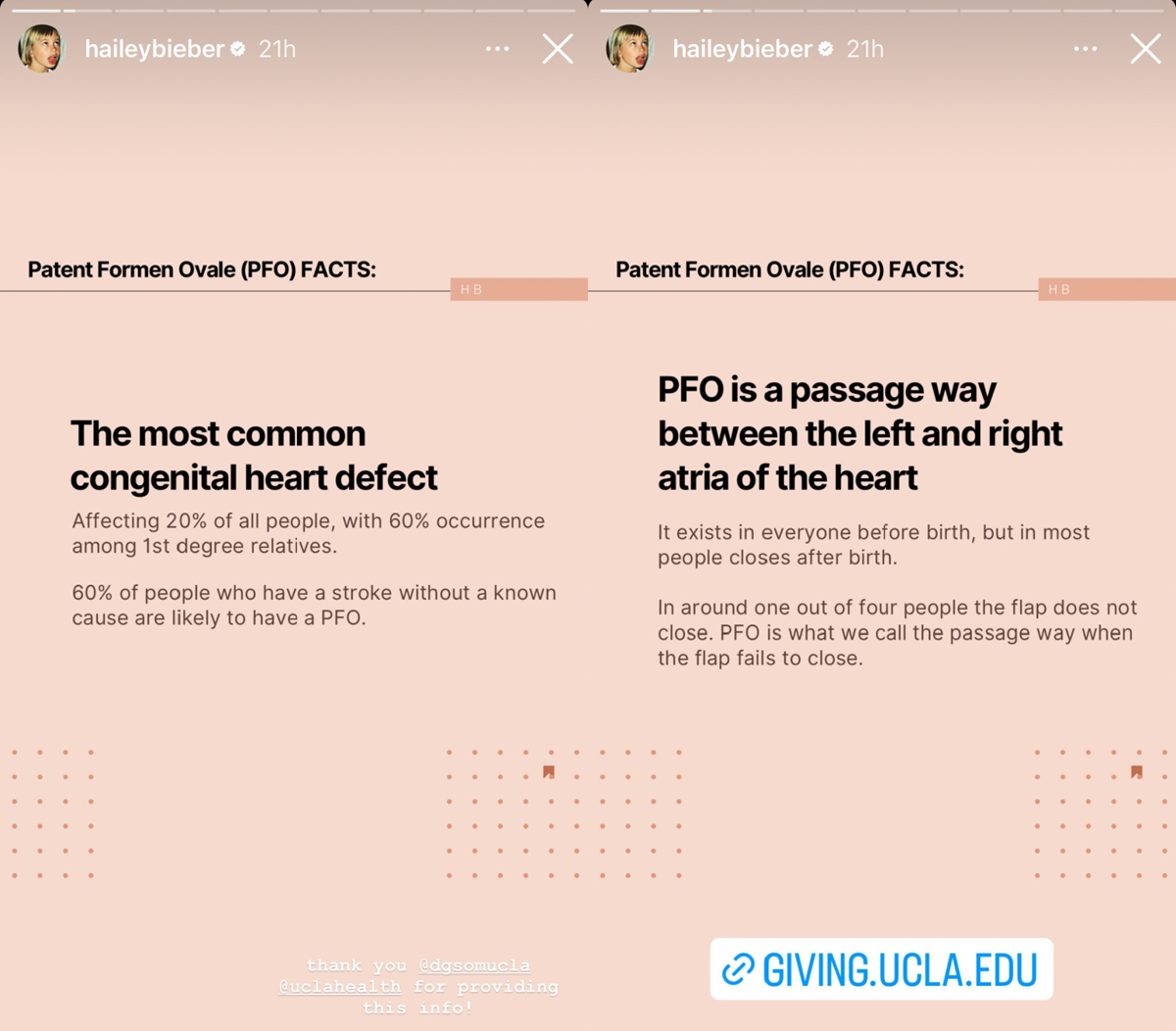 As you may recall, the Biebers went through some serious medical issues last year – as her husband Justin Bieber was diagnosed with Ramsay Hunt Syndrome. Meanwhile, Hailey was hospitalized and underwent heart surgery after she suffered from stroke-like symptoms in early 2022. The Rhode Skin founder share that the PFO closure went "very smoothly" at the time, adding:
"The biggest thing I feel is I just feel really relieved that we were able to figure everything out, that we were able to get it closed, that I will be able to move on from this really scary situation and just live my life."
Earlier this year, Hailey revealed she was struggling with PTSD since suffering her mini-stroke. She told the Run-Through with Vogue podcast:
"I struggled with a lot of anxiety after. I struggled with a little bit of PTSD of just, like, the fear of maybe it was gonna happen again. It was just a feeling that I was, like, I never want to experience that ever again. It was so terrifying, so jarring, so discombobulating in every single way that you could imagine."
But the star noted:
"I look back at it and it could've been so much worse. So many worse things could have happened in that moment."
She was very lucky because things definitely could have turned out worse! Reactions, Perezcious readers? Let us know in the comments below.
[Image via Hailey Bieber/YouTube/Instagram]