Are Megan Fox and Machine Gun Kelly over?! It looks like it, at least based on her recent activity on Instagram!
In the early hours of Sunday, the 36-year-old actress took to the 'gram to share a series of pictures of herself wearing an all-black ensemble featuring a sexy plunging top and pants with cutouts on the side. She also included a video where she seemed to be burning a letter and some kind of bag in a bonfire. She then wrote in the caption:
"You can taste the dishonesty/ it's all over your breath"
For those who don't know, this is a lyric from Pray You Catch Me – which is a song from Beyonce's album Lemonade. You know, the same album that dealt with her husband JAY-Z's infidelity!! Umm… Is Megan trying to tell us that Machine Gun Kelly cheated on her?! You can ch-ch-check out the post (below):
Related: Shakira Knew Clara Chia BEFORE The Affair! She Even Gave Her This Nickname!
Adding fuel to the breakup rumors, the Transformers star deleted all of her photos with MGK AND unfollowed him on Instagram. She now only follows three people on the social media platform: Harry Styles, Timothee Chalamet, and the 32-year-old singer's nemesis Eminem. The shade and very telling! At this time, Machine Gun Kelly still has photos of him and Megan on his account.
Based on these clues, fans have been speculating that they called it quits this weekend. Many people took to the comments section of her post to drop their reactions and theories, saying:
"*Pete Davidson has entered the chat*"
"If SHE got cheated on the rest of us really have no hope"
"NO WAY. MGK with the biggest fumble of Super Bowl Sunday, who would've thought?!"
"Pete Davidson incoming in 3… 2… 1…"
"LYRICS OFF THE LEMONADE ALBUM AFTER SHE FOUND OUT ABOUT JAYZ CHEATING I AM SCREAMING OMFG"
"Bro she just followed Eminem. This is war some s**t went down"
"& she follows Eminem. She's a savage"
"The only 3 people she follows and one of them is Eminem.. Iconic"
"ok beyoncé lyrics i see uuuuu"
When one person commented that MGK "probably got with Sophie" AKA Sophie Lloyd, the guitarist for his tour, Megan responded:
"maybe I got with Sophie"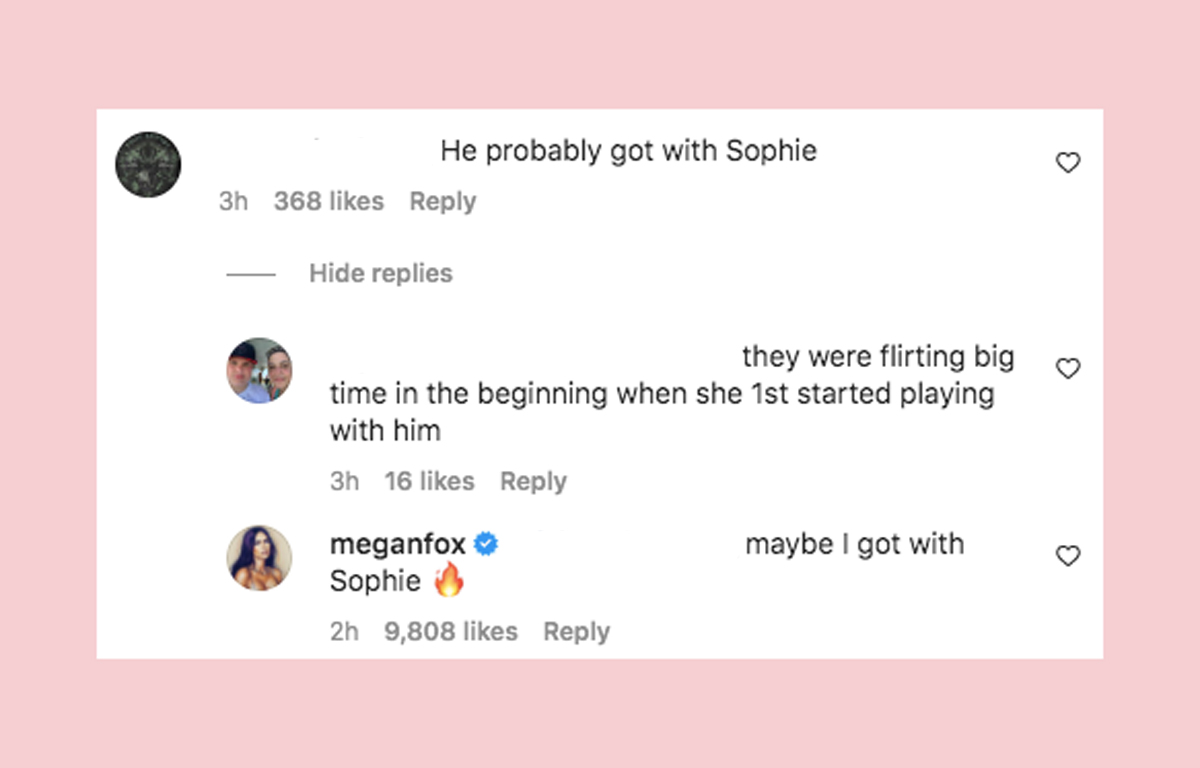 Innerestingly enough, before the dramatic change to Megan's account, she was spotted out with the Bird Box actor wearing the same outfit as in the pictures she shared. The (maybe?) former couple were even holding hands as they left Drake's Super Bowl party on Friday night. So what happened in a day? Because while neither Megan nor MGK have made an official statement, all arrows seem to point to the fact that their relationship is over!
Reactions, Perezcious readers? Do you believe MGK and Megan broke up? Sound OFF in the comments below!
[Image via Nicky Nelson/WENN, Megan Fox/Instagram]