Scheana Shay is firing back at Raquel Leviss' claims!!!
For those who haven't been keeping up with the Scandoval drama, it came out that Tom Sandoval cheated on Ariana Madix with their 28-year-old co-star for months – prompting the two to break up after nine years of dating. The news of the affair scandal caused their Vanderpump Rules castmates to choose sides, with many hopping over to Team Ariana and slamming Sandoval/Leviss for their actions. One of the 37-year-old's biggest supporters has been her best friend Scheana, who allegedly went OFF on Raquel when she found out about the affair after taping Watch What Happens Live with Andy Cohen.
Related: Lisa Vanderpump Is 'Gobsmacked' Over Tom & Raquel Affair Scandal
In fact, rumors came out that Scheana got into a physical altercation with the former pageant queen at the time. Raquel seemed to confirm the fight when she filed for a restraining order against the mom of one, claiming she "pushed her against a brick wall" and caused an "injury" to the back of her head. It was also claimed Scheana then "punched" her in the left eye, causing it to bruise. Photos taken after the alleged incident showed a cut on her eyebrow too. Ch-ch-check it out (below):
In the filing, Raquel claimed her former friend "doesn't regret the physical attack on me" and "would do it again if she found that further emotional distress was caused to our mutual friend." Ultimately, a judge ended up granting the SUR waitress a temporary restraining order – forcing Scheana to stay at least 100 yards away at this time.
It's a wild chapter in an already complicated situation. But as Vanderpump Rules fans expect, the drama doesn't end here because Scheana is now shutting down Raquel's accusations! Her attorney Neama Rahmani told Page Six on Thursday that Raquel was "never punched" by Scheana, explaining:
"This entire case is a fabrication by a known liar and a cheat who has betrayed everyone close to her. Scheana never punched Rachel, period. The supposed dark markings around her left eye have been there for months."
Confirming the reports that the VPR cast hasn't been in communication with Raquel, the lawyer added:
"Neither Scheana nor other cast members want anything to do with Rachel going forward."
Neama then noted that the judge "has only heard a one-sided account" of the alleged altercation, concluding:
"And we look forward to presenting the full and true story at the March 29 hearing."
Whoa!
So that leaves us with one giant question: If Scheana didn't give her the black eye, then who did it/what happened?!? Innerestingly enough, people have come forward to question if Raquel was actually hurt by Scheana. She was seen out and about for the first time on Wednesday, where she could be seen with the supposed black eye. However, the alleged cut on her eyebrow doesn't seem to be visible. See (below):
Raquel Leviss is ghosting Tom Sandoval as she hides out in Los Angeles https://t.co/0haeZ8ba06 pic.twitter.com/gRNqsZkNba

— Page Six (@PageSix) March 9, 2023
Then, friends of the VPR crew also cast doubt on punchgate. Kael Ramsey Ackerson, a close pal of the reality stars, hopped on Instagram Wednesday and claimed Raquel is lying about her injuries being inflicted by Scheana:
"Sooooo I've tried to stay out of this whole thing but one thing we're not about to do is lie. All these photos were before #wwhl and in all of these this so-called 'black eye' was present @raquelleviss this is not how you treat family but again everything comes to light."
He continued:
"It's not about just coming for someone who is my best friend but it is you coming for someone who gave everything to protect you, be there for you, and support you when everyone else didn't. I can't sit back and watch you create narratives to save your own ass while trying to bring someone else down as a deflection. I hate it has come to this but enough is enough."
Alongside the caption, Kael included a picture of a makeup-free Raquel taken before the alleged incident happened, said to be around November 2022, where discoloration can be seen under her left eye. He also included a video from Scheana's vlog documenting their press tour in New York City where the same mark is visible. Check it out (below):
Scheana's friend Tori Keeth shared Kael's post on Instagram Stories, expressing:
"What you've done is disgusting enough. But to LIE about a black eye? Come on Raquel, we're not stupid. You are. You've had this black eye since BEFORE you were 'supposedly' punched."
The singer then followed up with another message, blasting Raquel for trying to "f**k with scheanas life" by allegedly making up the claims. She then said her allegations were nothing more than "sad attempts to take the heat off of [her] despicable actions," adding:
"Drop the victim card raquel. We all see right through you. Damn you really think you know somebody."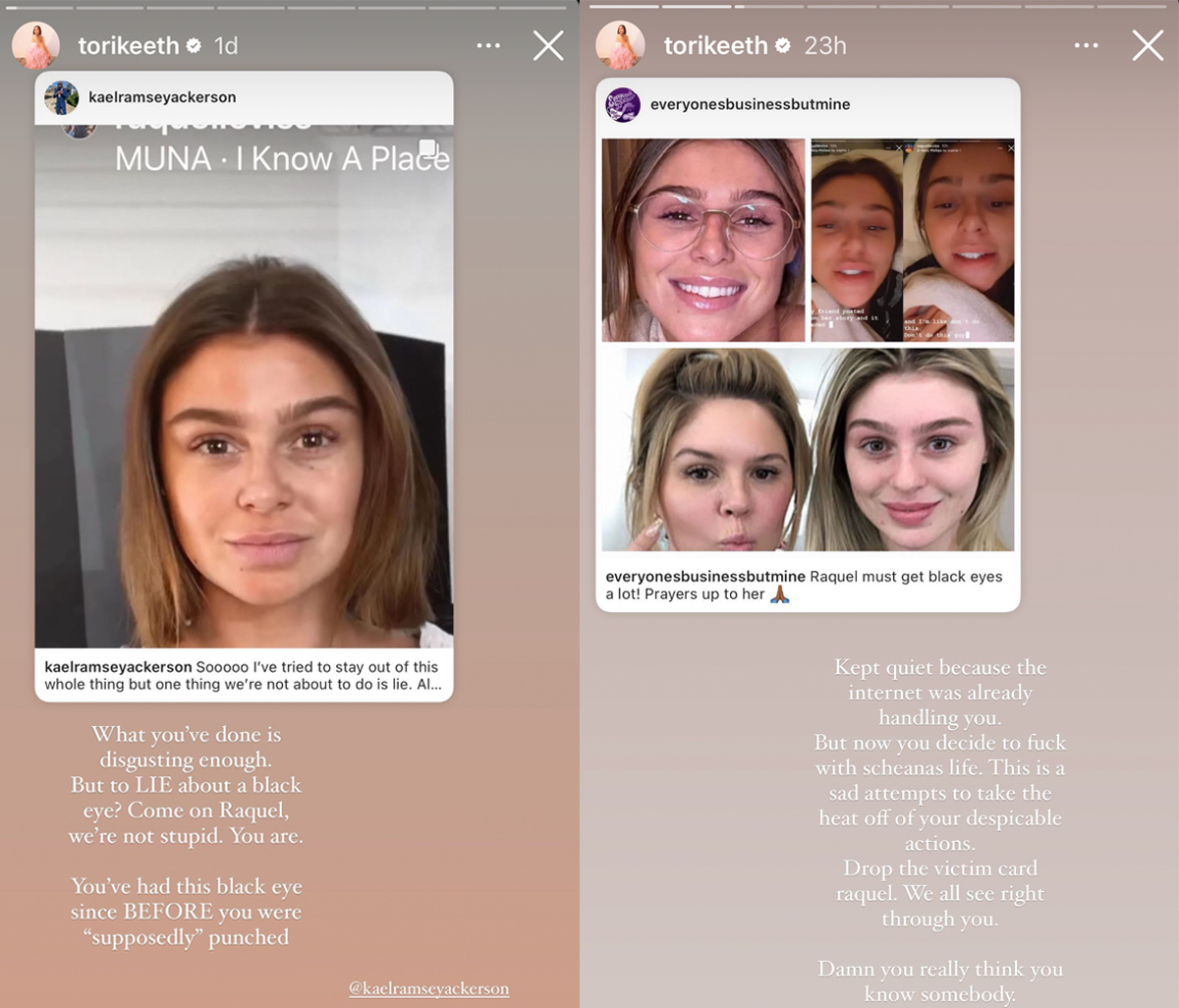 Despite Scheana and her friends denying the alleged altercation, a source close to Raquel insisted that she wasn't lying. The insider told Page Six:
"She did not previously have a black eye, nor did she have a cut over her eye. There is a doctor's report attached to the TRO [temporary restraining order] paperwork."
We'll have to see what happens with this case, but Scheana is clearly not going down without a fight! What do YOU think about the matter, Perezcious readers? Sound OFF in the comments below.
[Image via Bravo/YouTube]