The moment Bravo fans have been waiting for is finally here: The Vanderpump Rules season 10 reunion taping. And you guys, Ariana Madix did not hesitate to already throw SHADE at her cheating ex-boyfriend Tom Sandoval before the cameras were even rolling!
Weeks after the 39-year-old business owner and Raquel Leviss' affair rocked the world, Sandoval, Ariana, Scheana Shay, Lisa Vanderpump, and Andy Cohen were photographed on Thursday arriving for the filming of the highly-anticipated reunion episode. While this is no doubt a nerve-wracking moment for the 37-year-old, she rolled up to set in what appeared to be good spirits – and a bright yellow statement hoodie!
Related: Ariana Is Finally Getting Off After Dumping Sandoval!
Ariana apparently wanted to send a message before the reunion, as the shirt she arrived in read "1-800-BOYS-LIE" while the pants said, "We're sorry the number you're trying to reach has moved on." No, we're not joking! Ch-ch-check out her arrival photo and a pic of the sweats (below):
YES, ARIANA!!! Clearly, she wants everyone to know she is not crying over Sandoval following their breakup! As for her ex-boyfriend? Well, Sandoval appeared to be more nervous while drinking a coffee outside – probably because he knows he's about to get blasted by Ariana and the rest of the cast. See the images (below):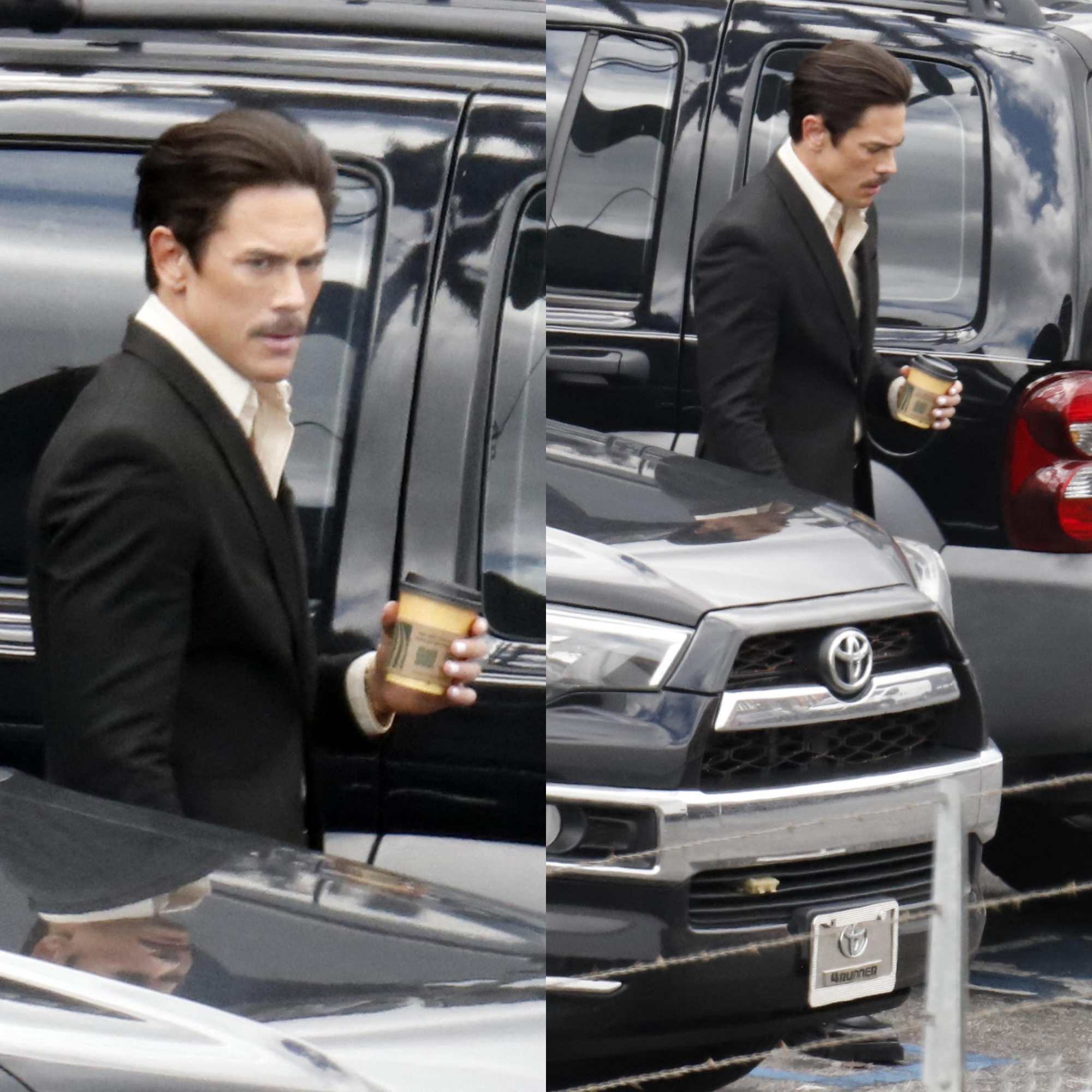 And of course, Lisa and Andy could be seen sharing a big hug in the parking lot. Check it out (below):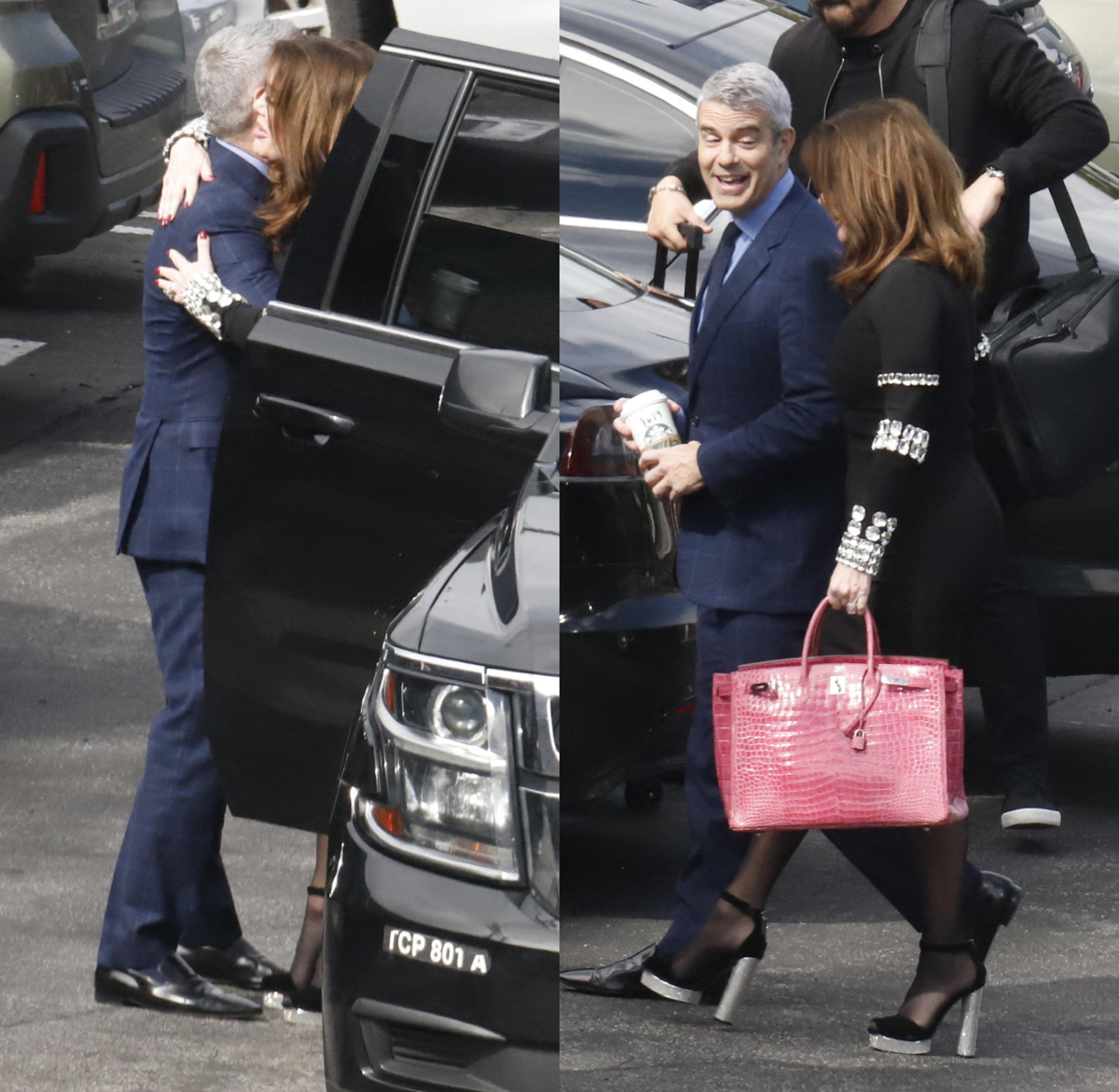 Meanwhile, Scheana walked onto set with a ton of stuff and her own merch that read, "It really is all happening." She confirmed her attendance at the reunion earlier on Thursday despite Raquel's restraining order against her over an alleged physical altercation. As we previously reported, the two will not be filming in the same room as each other but instead will be switching places throughout the day so Scheana can stay 100 yards away. See her entrance (below):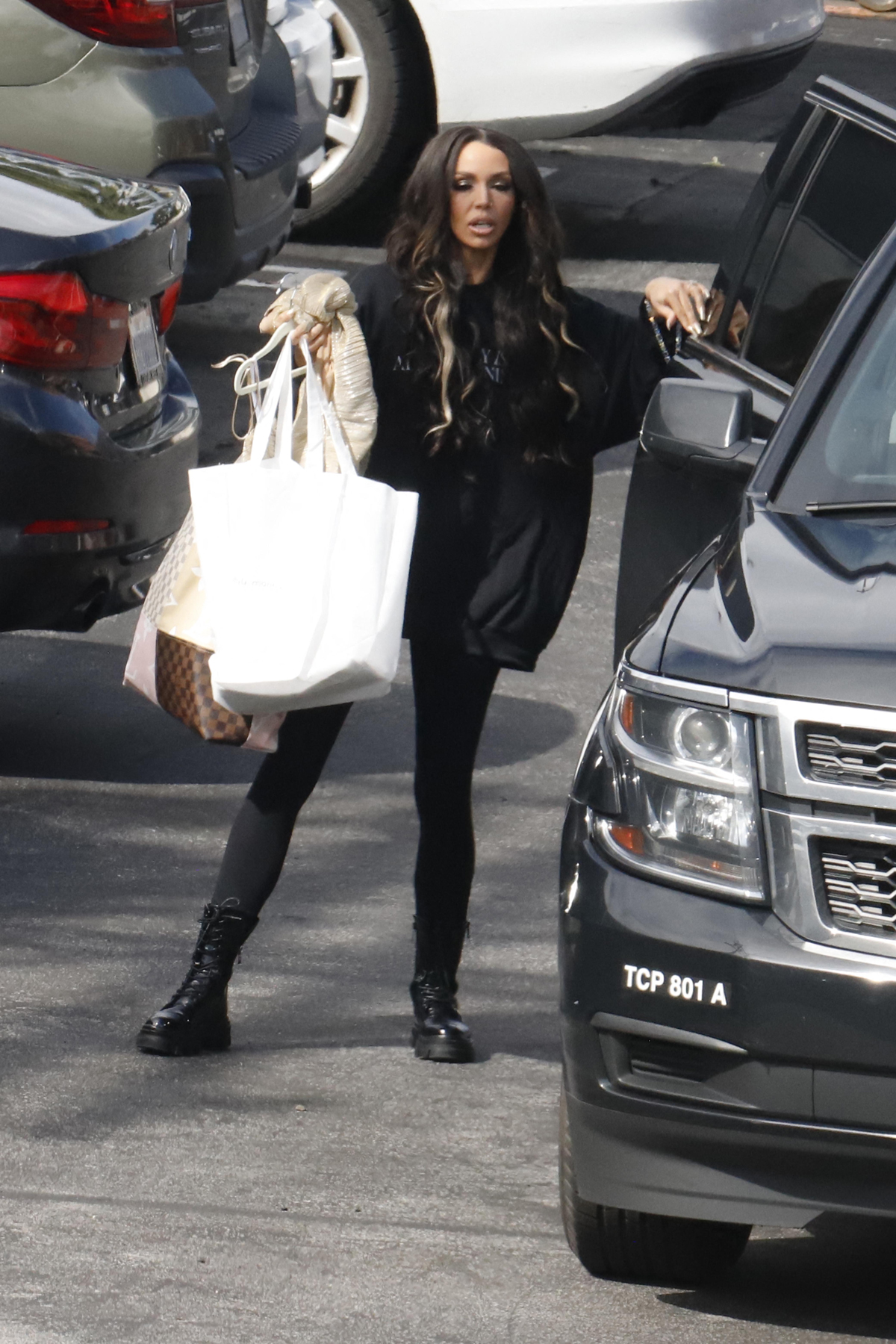 As for the rest of the cast? Innerestingly enough, Raquel did not seem to be photographed coming into the reunion. However, a seating chart posted by Bravo confirmed that she is there.
Raquel sitting in between the Toms?! Wow…
Plus, TMZ reported that Raquel was spotted talking with Sandoval in the parking lot outside of the trailers. While it is unknown what the two were talking about, they seemed serious and happy at times. Thankfully, it looks like cameras were rolling during their conversation, so fans will possibly get to see the moment later.
SPOTTED: #TomSandoval & #RaquelLeviss outside the #VanderpumpRules reunion ???? https://t.co/Z2GG9wMFxi (????: Backgrid) pic.twitter.com/OPvhgM405Q

— TMZ (@TMZ) March 24, 2023
Andy also gave fans a sneak peek of Lala Kent and Katie Maloney on Instagram Stories. The 32-year-old momma of one told the reunion host that she's on "10" and "ready" to talk Scandoval, noting that "once I'm out there I'll be on 100." When Andy pointed out Lala's manicure, she joked (maybe?):
"I gotta get my claws into somebody and I have a couple people in mind."
Yikes! In another post, Andy asked Tom Schwartz an important question about his involvement in his best friend and business partner's affair:
"You know what I need to know from you, were you silent or were you silenced?"
Obviously, this is a reference to a moment in Oprah Winfrey's interview with Meghan Markle and Prince Harry. While Schwartz did not spill the tea, he told fans:
"Let's get down and dirty. Let's get messy."
Considering there's so much to cover with Scandoval and the rest of the season, the WWHL host gave everyone a look at how many points he wants to cover, telling Lisa that they might have to have a "sleepover" with everyone to get through it!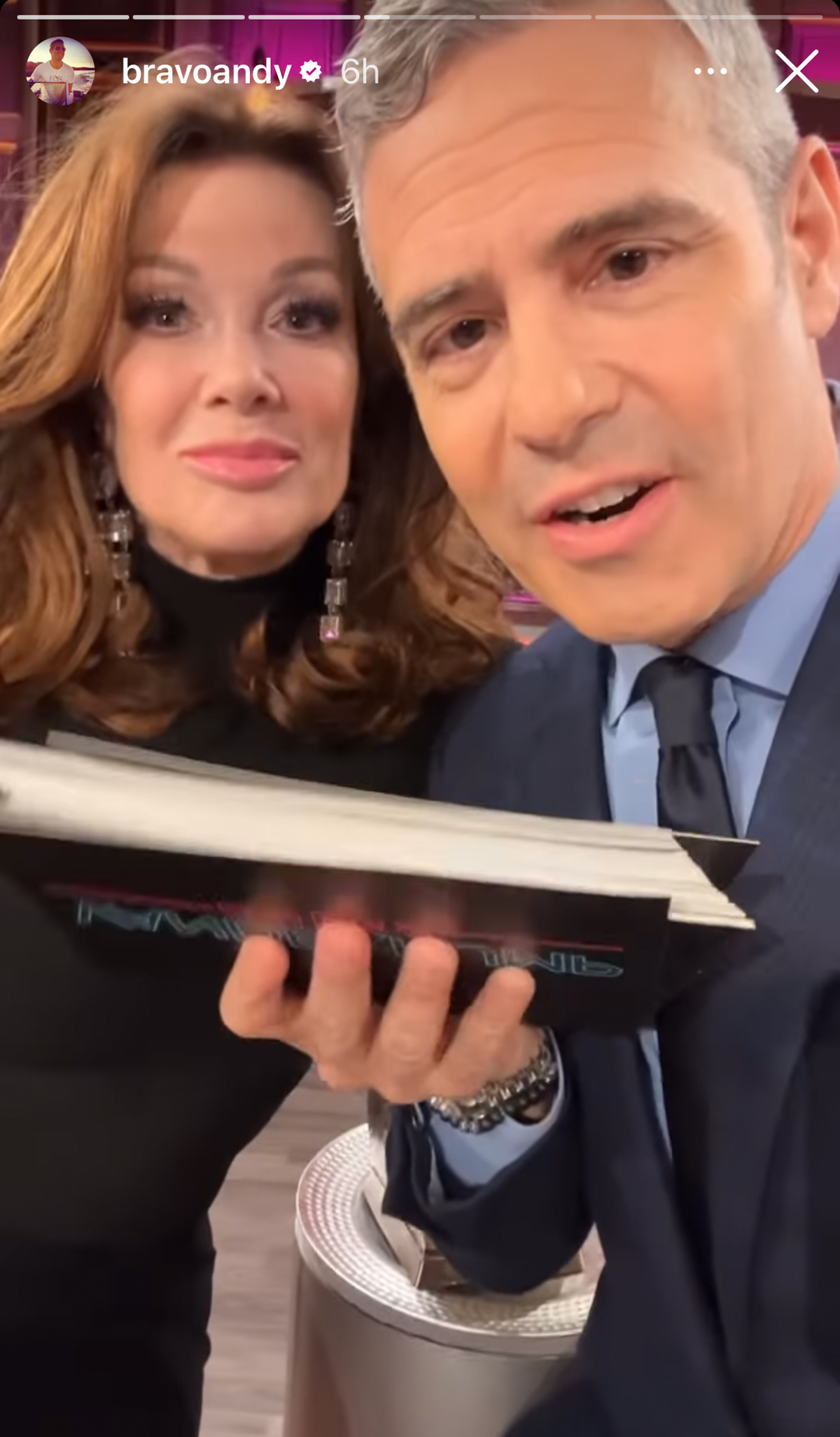 We cannot wait for the reunion! But sadly, everyone will have to wait a bit to get the juicy deets once it airs later in the season! Reactions, Perezcious readers? Did you LOVE Ariana's outfit? Let us know in the comments below!
[Image via Watch What Happens Live with Andy Cohen/YouTube]