Shopping for furniture can trigger a few emotions. At first, once you decide it's time for some new pieces it can be really exciting. I mean who doesn't love the idea of transforming their space into something bright and shiny and new? Then you start feverishly pinning pins on your Pinterest board to get a feel for what you like. Okay, everything is going great! But then you start shopping around furniture store after furniture store only to realize that nothing in these stores looks anything like what you've seen on Pinterest. The lies! Oh and let's not forget expensive for some not so great stuff. It's somewhere around this point that the confusion and worry begin to creep in. You ask yourself questions like, "Am I making the right decision?", "Will this even work in my house?" or "What if I spend all this money and it gets delivered and I don't even like it?". Then you find yourself back on Pinterest and the cycle starts all over like some sort of hellish groundhog day of furniture shopping. I thought we were supposed to be having fun?
This was me. Our old sofas had been with us way too long and it was at the point they weren't even remotely comfortable. It was the kind of thing where you'd have to keep readjusting the cushions in order to be comfortable. And then readjust them again. And again. I realized nothing on this planet would make these things comfortable again and I just couldn't do it anymore. Sorry old buddies, you're so out of here. It was time for some spanking new sofas. Start cleaning out the room.
What Is Article?
The stars must have been aligning because it was right around this time Article, a company with a new concept in streamlined, stress-free furniture shopping contacted us. They asked us to give them and their furniture an honest try. Their aesthetic is mid-century and contemporary furniture designs with clean lines in a variety of different fabrics including some indulgent and luxurious options like velvet and leather. Life is about trying and experiencing new things after all. And after browsing their site for a bit I loved what I saw.
What Makes Article Different From A Typical Furniture Store?
While today it's not uncommon for furniture stores to have a website, Article does it a little differently. Article delivers their furniture direct from them to you. They've figured out how to cut out all those expensive layers of furniture business middlemen that end up making your furniture cost more. By doing this they're able to offer a higher quality of furniture at a much lower price point than you would typically encounter at a traditional furniture retailer. Their clean, chic designs are original to them and you don't have to waste any time visiting showrooms. That means no pushy salespeople to run away from. You get to shop for beautiful furniture right in the comfort of your own home, at your own pace. And if you're nervous about shopping for large furniture pieces online, they have an amazing 30-day full refund return policy.
Shipping Costs Are Probably Crazy, Right?
Nope! Article has a flat shipping fee of $49 (or $19 for small shipments) to your door, no matter how large your order. Do you want 10 pieces of furniture? Sweet. Still $49. There's also some amazingly convenient, and might I add affordable, upgrade options for in-room delivery and assembly options at checkout. Having your furniture delivered inside your home to a specific room is $99 and if you want it moved inside and then assembled that option is $169. We went the latter route and it was 100% worth it.
The Article Furniture Pieces We Chose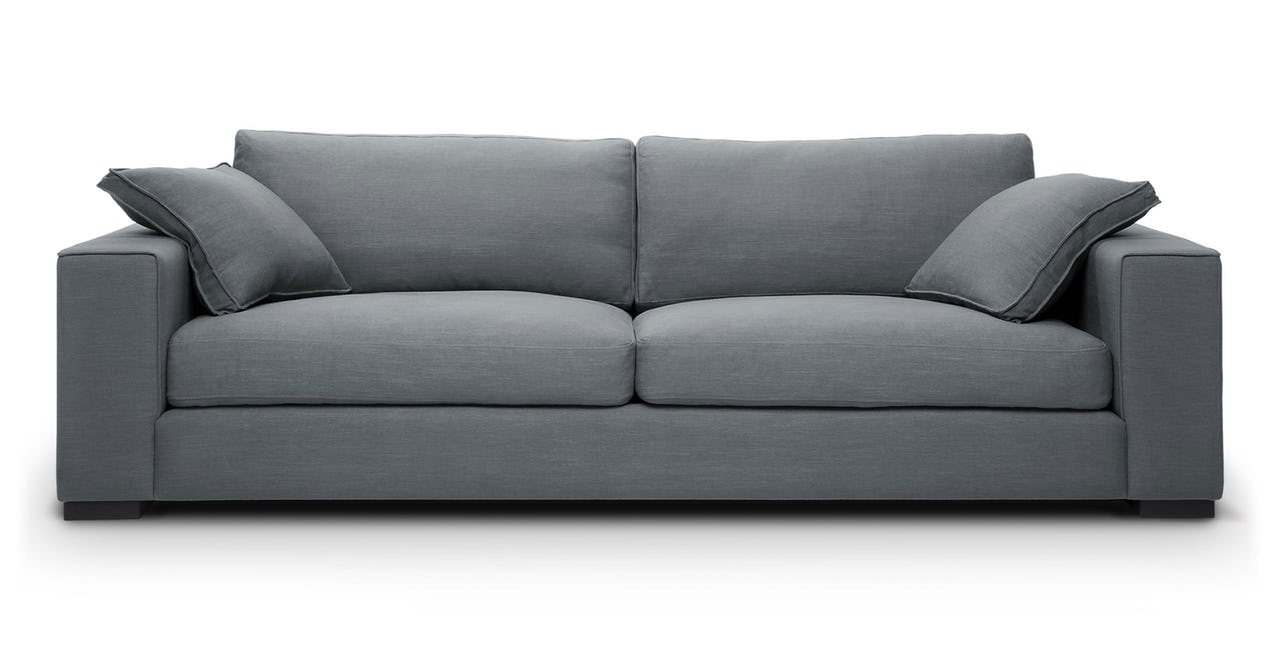 The Sitka Sofa (99″)
Color – Thunder Gray (Fabric) & Baroque Black (Legs)
Cost – $1399
There's no denying this couch is big. At 99 inches long it's the perfect sofa for a great room, family room or a really long empty wall in our case. Even though it is long, its clean modern lines keep it from looking or feeling bulky. At first sitting on it, I thought it was a little on the firm side. But I think my initial reaction was because it was brand spanking new. After sitting on my Article Sitka now for a few weeks I have to say I'm smitten. It is so amazingly stupendously comfortable. I'm not exaggerating. Not even a little.
And my guy who is 6 foot tall loves it as well. As a taller person, he often finds most furniture uncomfortable as it just doesn't fit his body. With the Sitka, he is comfortable while he's sitting, but it's also long enough for him to stretch out and lay down comfortably with room to spare. This sofa is everything.
Here it is before I dressed it up a bit: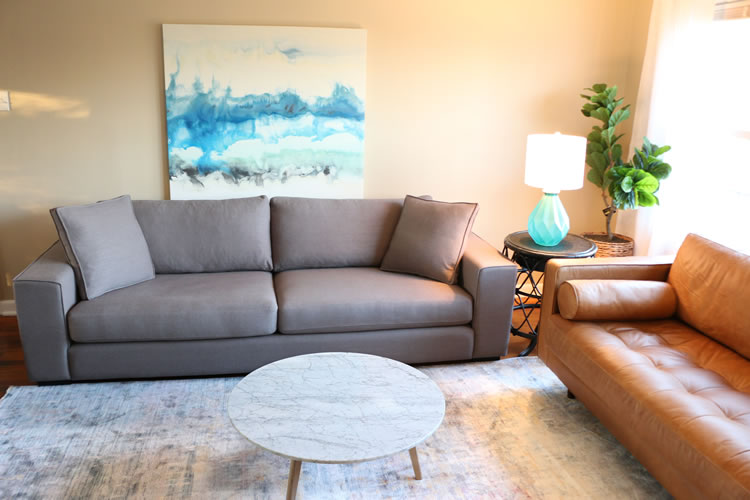 Not only is this couch perfect for sitting but it's also wonderful for lounging while watching T.V., reading or maybe just enjoying some coffee. If I was a napper this couch would be the one to do it on. I also love how supportive it is for when you want to get work done on your laptop.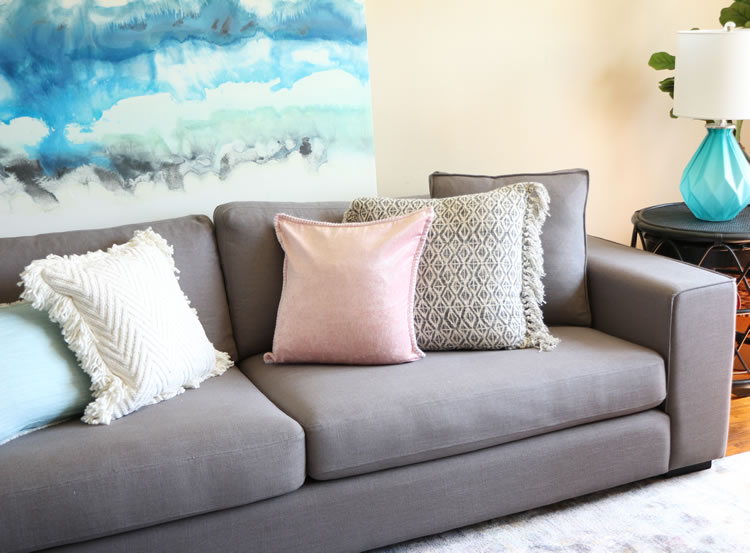 The other thing I love about this couch is the armrests. While a little on the wider side they're perfect for resting things on. The perfect spot to rest all your remotes, your book, cell phone, tablet or even your laptop. Or forget the work and just enjoy a cup of coffee.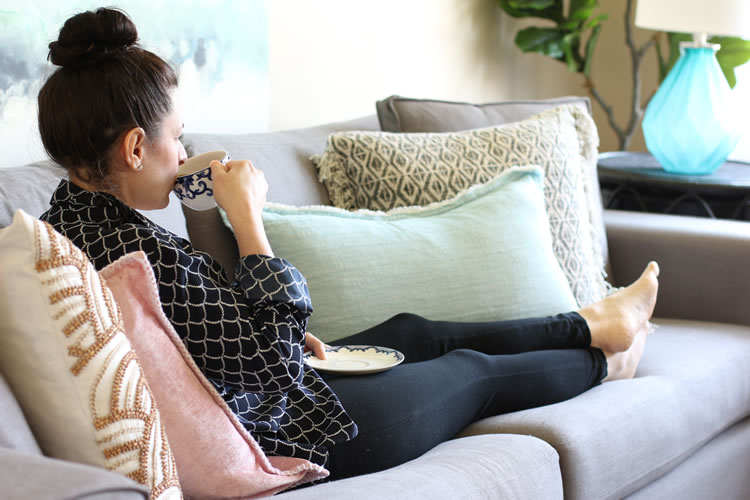 The fabric for the Sitka sofa comes in three different colors – Quartz White a linen white, Glacier Blue a beautiful lighter grayish blue, and Thunder Gray a medium gray. I truly wanted the Quartz White but went with my runner up choice the Thunder Gray. I knew with my daily habit of spilling just about everything the gray would be the best option. And I'm so happy I did. Not only is the color gorgeous and will coordinate with tons of colors for when I want to change up decor, but this fabric will not show stains. Just what I was looking for.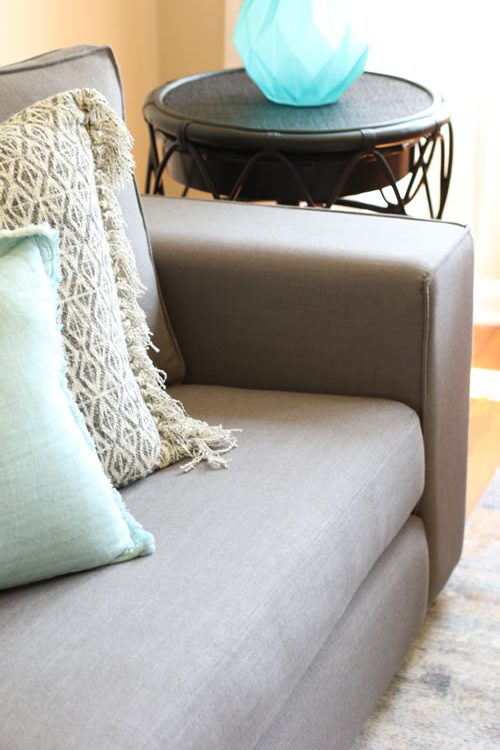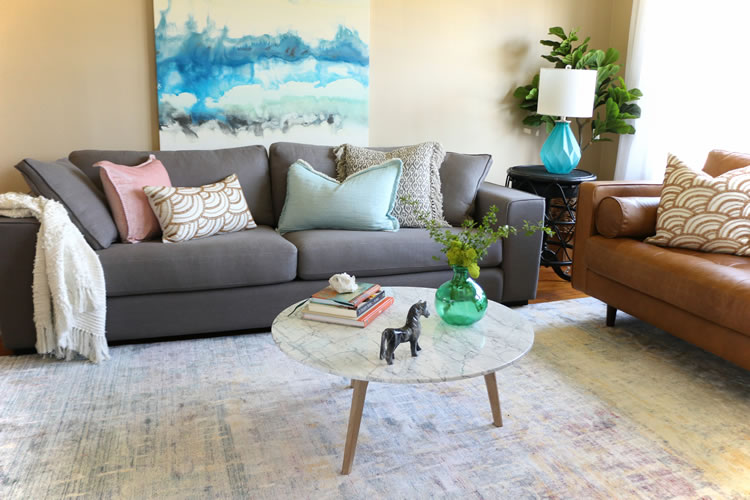 The cushions are filled with a high resiliency foam with fiber filling and feathers while the fabric is a blend of 57% viscose,18% polyester, 15% cotton and 10% linen. The fabric is soft to the touch but seems extremely durable at the same time. This is a combination that can be hard to come by. An outstanding option if you have kids or pets.
The other thing I'm impressed by is how great the quality of this sofa is for the price point. This is a piece with some good weight behind it and I can tell it will last a long time. And a sofa like the Sitka would definitely cost you upwards of $3000 at a retail store. At Article you can get it for less than half of that. If I had the room I would order another in a heartbeat.
Pro Tip: If the Sitka sofa sounds right for you, I can also suggest skipping the $169 upgrade to have your furniture assembled as the Sitka comes ready for lounging right out of the box.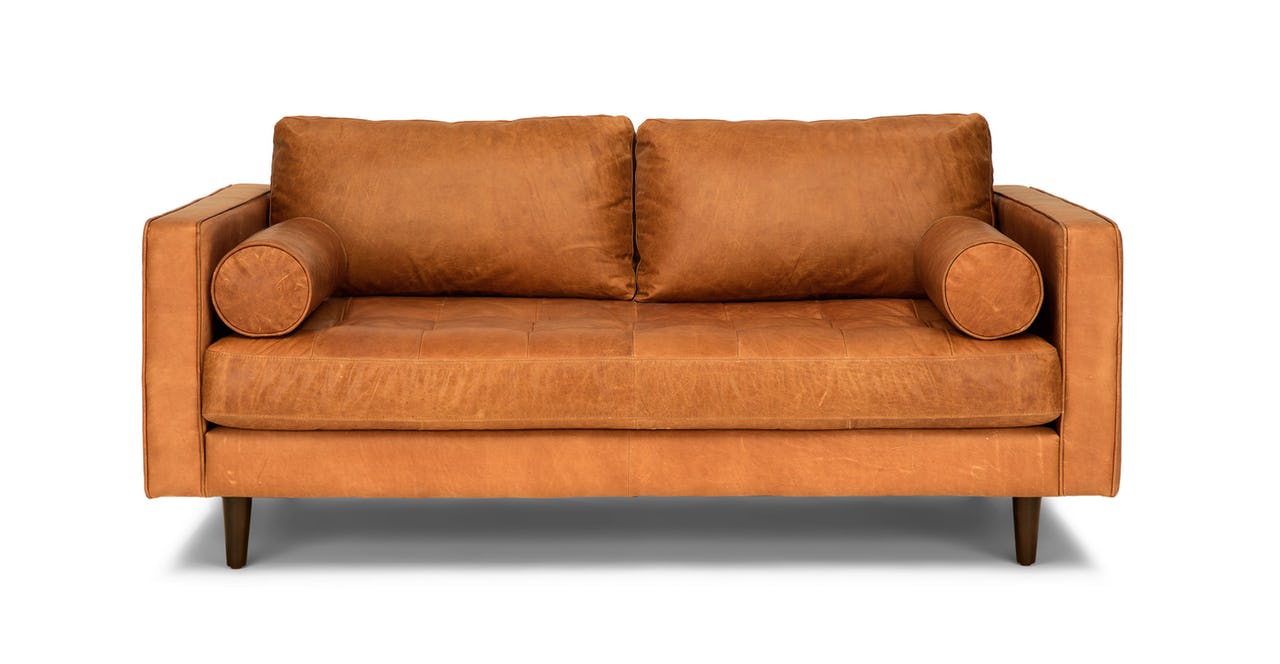 While I could have paired the Sitka with a chair or two, I went for the 72 inch Sven sofa instead. Kind of an apartment sized sofa. The larger version of the Sven is 88 inches in length and is perfect for a larger living room or space.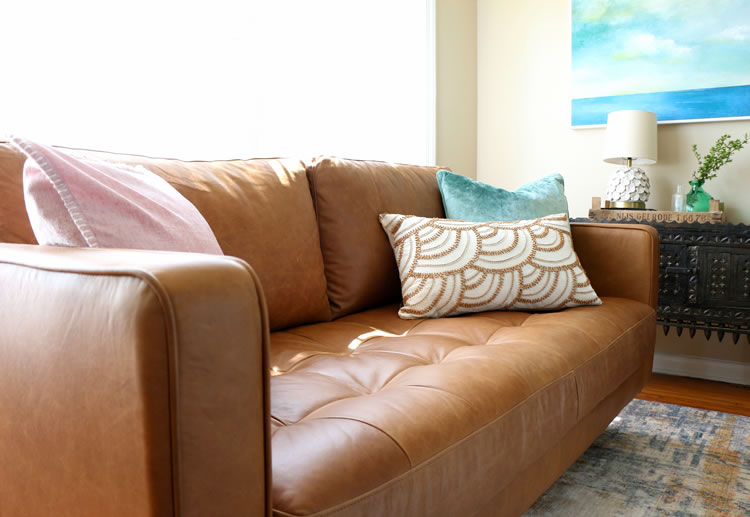 This is Article's most popular sofa and it's no mystery why. This thing is gorgeous. I am officially obsessed. The rich caramel color of this sofa's full aniline leather was calling to me and I answered. Saying this sofa is stylish would be an understatement. Its classic mid-century inspired design can easily be emphasized or played down by simply mixing up fabrics, pillows, throws and coordinating furniture pieces. Its lines are clean and modern while its tufted leather bench seat is simply divine.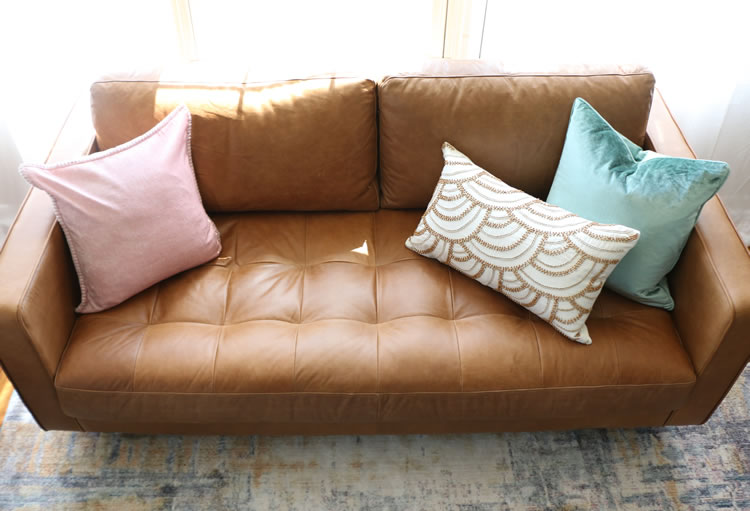 This sofa is also supremely comfortable and you sort of sumptuously sink into its cushions. And the leather? Buttery smooth. I'm convinced the back cushions are filled with clouds, but I could be wrong. This is an investment piece that could last a lifetime and beyond.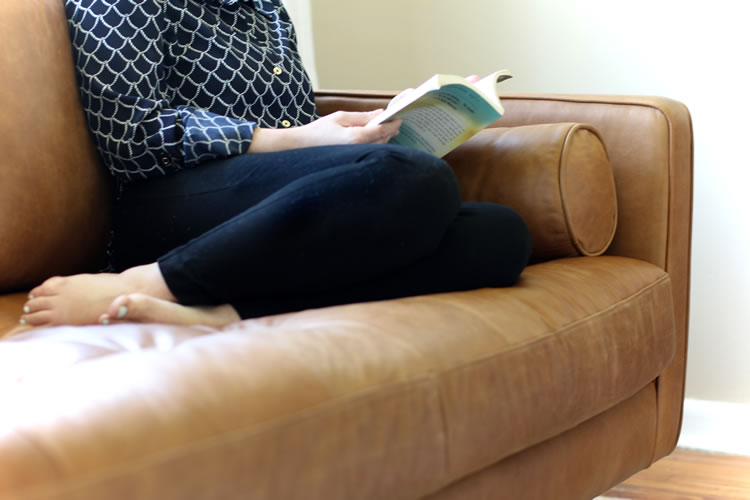 While I absolutely adore this sofa there are a few things to note. If you are kind of OCD about your furniture this color leather may not be right for you. This type of leather can mark up and stain easily and the Charme Tan color of leather will show it. The worn and lived on look over time can look really beautiful but you might not like the in between. If you need a sofa to live on every day and you have kids or pets or messy significant others, the Sven also comes in other colors of leather that would hide marks and stains much better. These include Oxford Black, Oxford Blue (a rich dark blue), and Oxford Gray. But if you love love love the Charme Tan color like I do you will not regret it.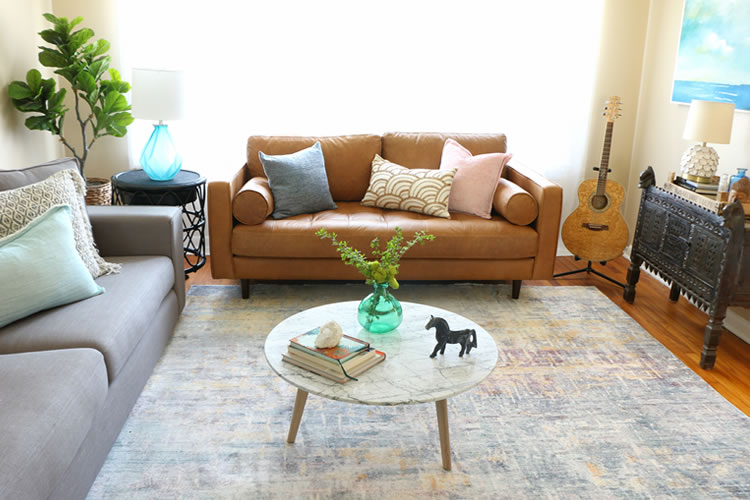 One thing to mention is that since leather is a natural product there may be slight variations in the color of the sofa you end up receiving. Some Article reviews mentioned their Charme Tan sofa was more on the blonder side but ours was closer to a saddle and true to the color on the website. I'm soon going to condition it and will update if there's anything worthy to mention.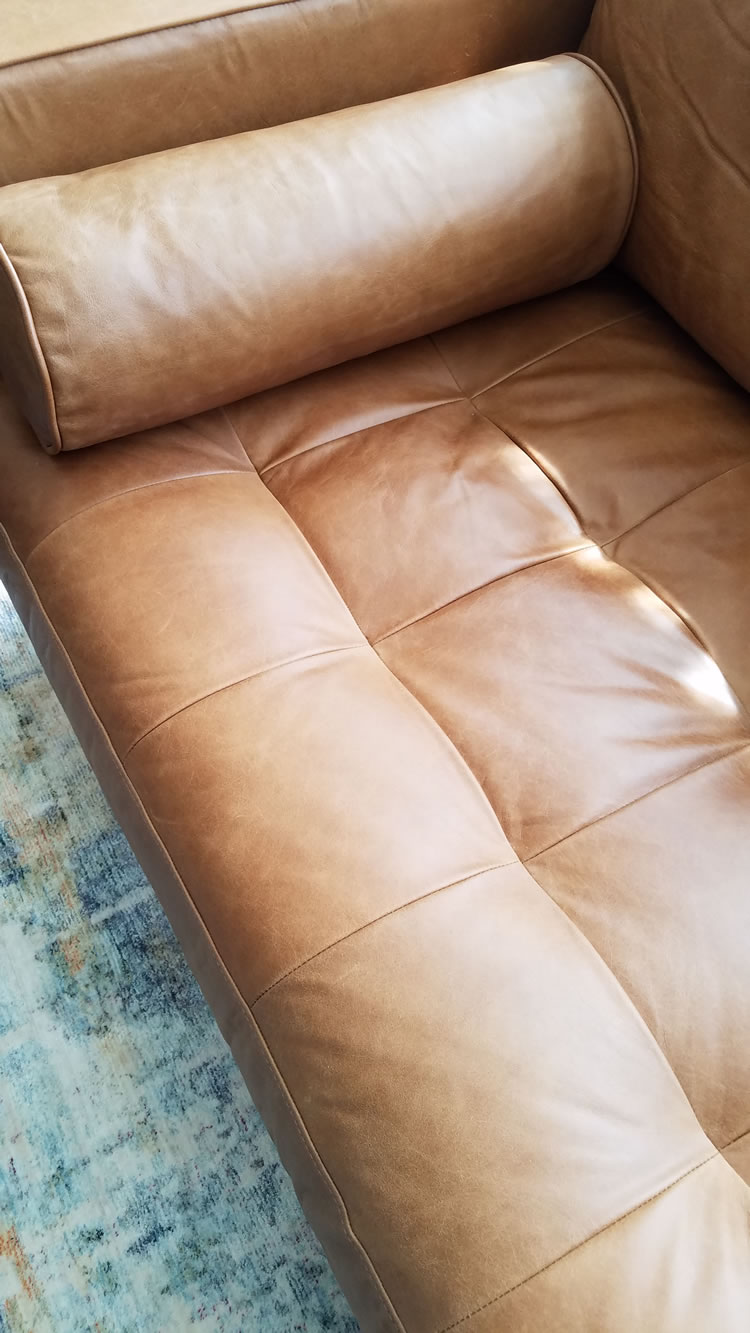 If leather isn't your thing, but you're really digging Sven's style, Article also offers this sofa in a sumptuous velvet or fabric in a variety of different colors. The velvet is glamorous and stunning and I was strongly considering it as well.
Again I'll say it. For Article's price point, I don't think you'll be able to find a brand new leather sofa like the Sven with this level of comfort and most importantly quality anywhere else. If you do, please let us in on the secret.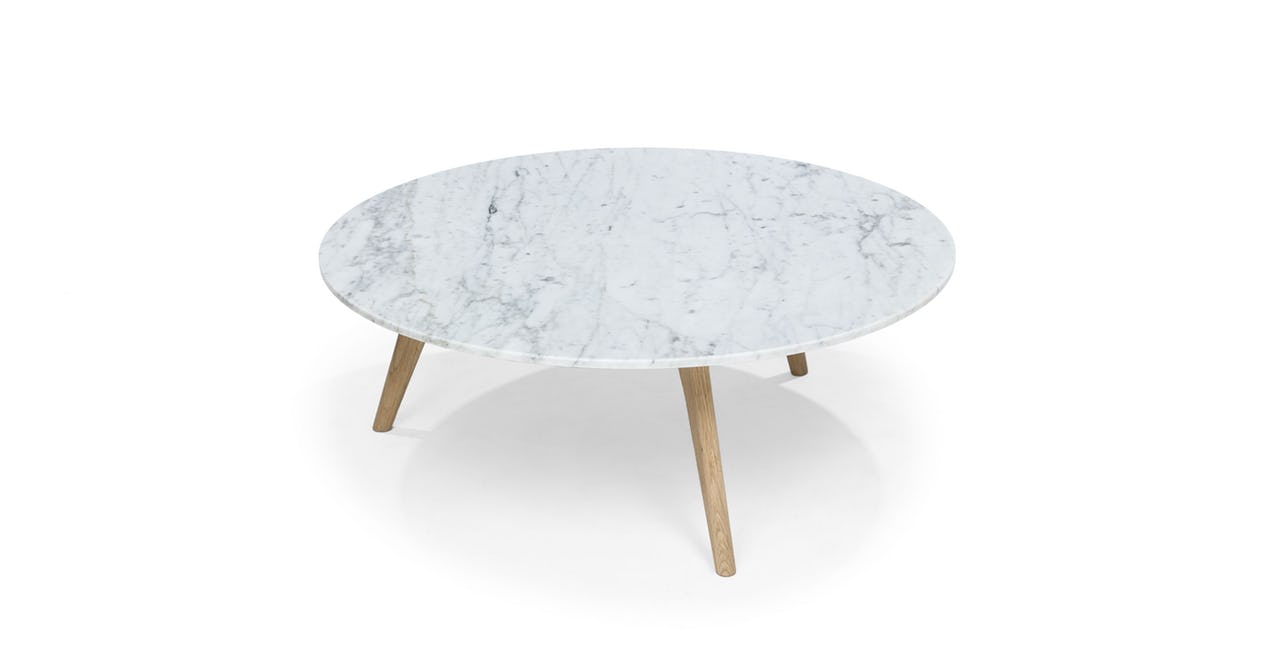 Mara Coffee Table
Color – White Marble With Oak Legs
Cost – $299
Article's Mara Coffee Table was our last and final choice. I have to say at first I didn't know what to make of this sweet little table. To be completely honest I think eventually we will need something larger for the space but for now, I'm really enjoying it. Its top is a beautiful white marble and its legs a natural oak color. Since marble is another natural product the actual marble table top piece can vary from table to table. The legs of the Mara also come in a darker walnut stain if that's more fitting to your decor.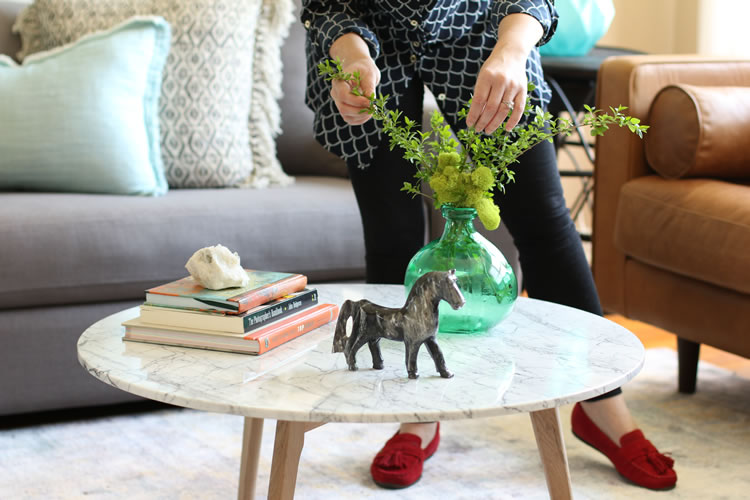 The Mara is lower than our last coffee table and a bit smaller. But I have grown to adore it. The table is a great height and is perfect for doing something like playing a board game or putting together a puzzle. It begs for some adorable throw pillows and I can tell you they are on my list.
While all marble is visually stunning and goes with just about everything it is an extremely delicate surface. Meaning? It stains and etches easily. As long as you clean up spills quickly you are generally safe. If you're not already a coaster person you will need to become a coaster person.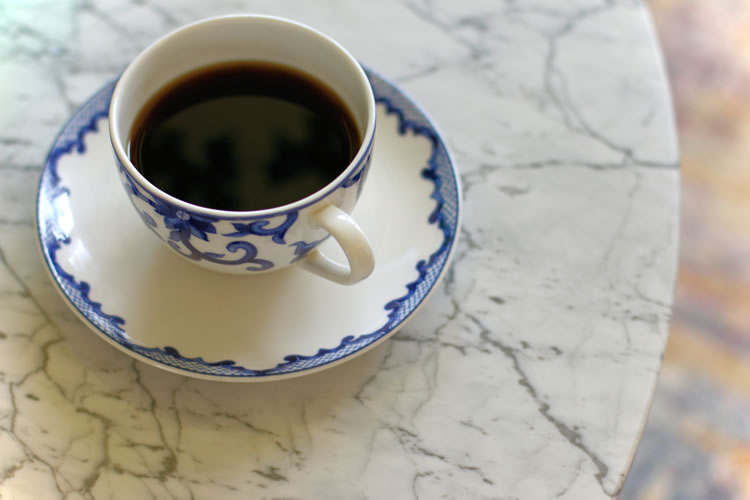 The Mara tabletop is delivered separately from the legs so some assembly is required. With just a few screws and an easy setup, you can easily have it ready in 15 minutes. Article also offers another marble coffee table in a square and rectangular shape in a style called the Vena. These shapes may work better for your home.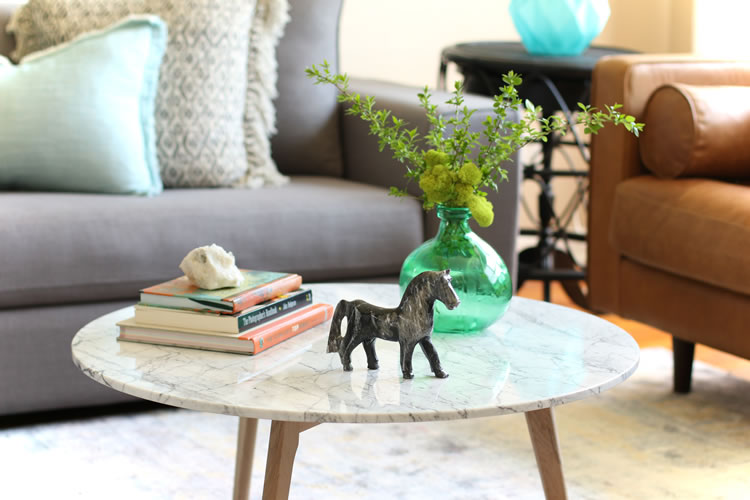 What Was Delivery Day Like?
When we placed our order Article gave us an estimated window of dates to expect our new furniture. When the furniture was ready to be delivered the shipping company contacted us a few days prior giving us a few options for the delivery day. We chose the soonest option since the anticipation was eating me up. The guys delivered the furniture on a Saturday morning. Our window was from 9 am to 11 am and they arrived just around 9.  They even gave me a ring to let me know they were 10 minutes away.
When they arrived I was really surprised to see their truck was much smaller than I expected. It even easily fit in my narrow driveway which before they came I didn't think was going to happen. So if you think you have unusual parking or delivery circumstances don't worry. They'll figure it out. They brought our two sofas in, unboxed them and then quickly assembled our Mara table. The whole process was no more than 30 minutes and that's with assembling the legs on the coffee table. Pretty sweet!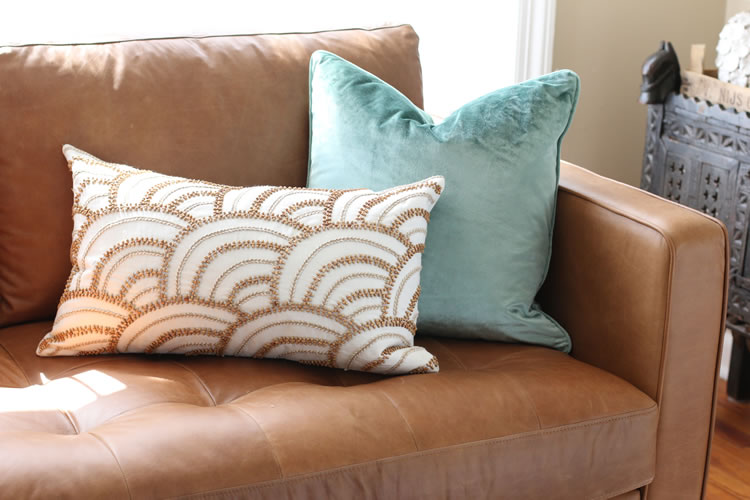 I have to admit getting all this furniture at once was a little bit of a shock. I knew the Sitka sofa was going to be large but seeing it in my space took a little getting used to. I even considered sending it back with the delivery guys. They offered to take it back with them that morning, but they recommended we give it a try and then to contact Article if need be. I'm so glad we took their advice. I am officially obsessed with my Sitka sofa. No really. If I had space I would order another and another.
Yikes! What If I Don't Like What I Ordered?
And the best part about shopping with Article? Remember when I talked about one of the worst parts about furniture shopping? You know the whole "What if I don't like it and spend all this money and then the store won't take it back?" thing? You are so golden. Article.com offers all its customers an amazing 30-day satisfaction guarantee so you can try out your fresh new furniture in your home and see if you like it or not. I think you'll love it, but if for any reason you feel like it's just not for you there's no need to worry. Just call or email Article and they'll send someone to pick it up. You'll get a full refund minus the shipping fees. Just be sure to hold onto your original boxes in case you may want to schedule a return. The furniture will get repackaged in these.
Final Thoughts
As of today, I can't sing Article's praises enough. But only time will tell how the furniture will age and wear. I would love to give an update in a few months. Not only is their furniture gorgeous and comfortable (and did I mention gorgeous) but their quality and attention to detail at the price point they offer is unbeatable.
If you're not in the market for a new sofa or coffee table right now Article also has a full line of chic and stylish chairs, ottomans, dining room furniture, bedroom furniture, outdoor furniture as well as functional decor pieces like lighting, shelving, poufs, pillows and more. There's no shame in just browsing a little. It's no doubt that shopping online for furniture can be a little scary. But with Article, I can absolutely assure you there's nothing to fear.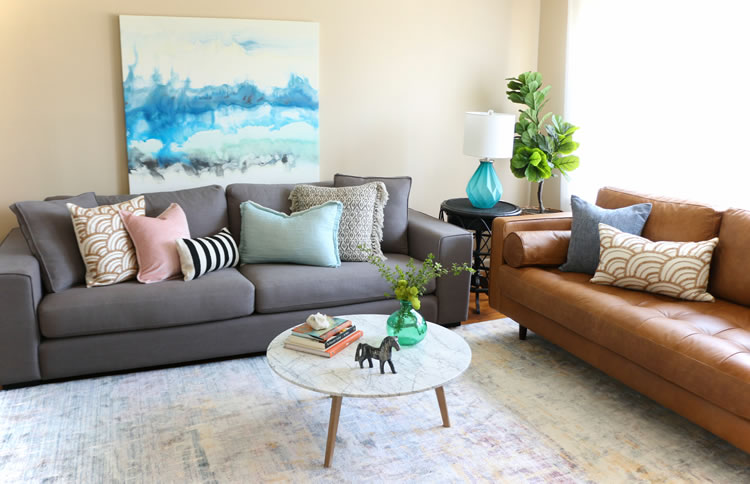 Visit Article to order modern and Scandinavian inspired furniture or for more home design inspiration!