Key events
That's it from me, Helen Sullivan – thanks for following along. We'll be closing this blog shortly, but you can catch up on the latest with our story here:
Strength to all the jornalistas on the Brazil beat, it's going to be an intense 28 days:
The Minas Gerais bellwether works. We reported earlier that the huge Brazilian state has correctly picked the winner of every national election since 1989.
Tonight's results, from journalist Bruno Fonseca: "Election for president in Brazil in the first image. In Minas on Monday. Practically the same distribution."
A more optimistic take on tonight's results, from Dawisson Belém Lopes, professor of international politics at Brazil's Minas Gerais Federal University:
"5 percentage points. 6 million votes… The good news: there is no "margin of error". It is not speculated advantage; it is real advantage."
Bolsonaro became president at the start of 2019 and has slashed environmental protections and promoted colonisation of the forest. research shows that CO2 emissions doubled in 2019 and 2020 compared with the average over the previous decade, driven by soaring deforestation and fires as law enforcement collapsed.
The latest data shows that almost a million hectares of rainforest have been burned in the past year. In the month to 26 September, fires soared to their highest levels in a decade. Brazil's national space research agency, INPE, reported 36,850 fire alerts in the region, more than double than in the whole month in 2021.
The increase may have been because of those illegally destroying the forest taking a final opportunity to grab land before the election, according to Amazon researchers.
Read more:
Brazil's election authority has declared that Lula has won 14 states and the overseas vote in the first round, with Bolsonaro winning 14 states.
As you can see from the below map – and out tracker here – the results are roughly split according to geography, with the country's poorer north favouring Lula.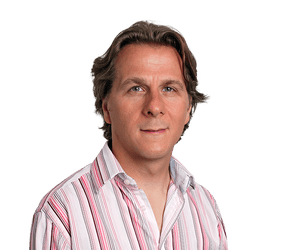 Damian Carrington
The fate of the Amazon rests on the final result of Brazil's national election, according to experts, who say a continuation of the rampant destruction under President Jair Bolsonaro could push the world's biggest rainforest past an irreversible tipping point.
In contrast, a victory for the former president Luiz Inácio Lula da Silva, who oversaw a sharp decline in deforestation when in power, could lead to the razing of forests falling by 90%, scientists estimate.
The Amazon rainforest plays a vital role in the global climate as a vast store of carbon dioxide, but recent research showed that fires and tree felling have left the region emitting more CO2 than it absorbs. Researchers showed in March that the Amazon was approaching a tipping point, after which the forest would be lost, with profound implications for the global climate and biodiversity.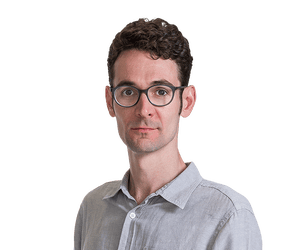 Tom Phillips
In case you're just joining us:
Brazil's acrimonious presidential race will go to a second round after the former president Luiz Inácio Lula da Silva failed to secure the overall majority he needed to avoid a run-off with the far-right incumbent Jair Bolsonaro.
With more than 99.5% of votes counted the leftist veteran had secured 48.3% of the vote, not enough to avoid the 30 October show down with his right-wing rival. Bolsonaro, who significantly out-performed pollsters's predictions and will be buoyed by the result, received 43.3%.
Addressing the media at a hotel in downtown São Paulo, Lula, who was president from 2003 until 2010, struck a defiant tone, declaring: "The struggle continues until our final victory."
"We are going to win these elections – this for us is simply extra time," vowed Lula, who was barred from the 2018 election that saw Bolsonaro elected, on corruption charges that were later over-turned.
With final results for the first round within spitting distance, Lula maintains his 5% – or 6 million vote – lead over Bolsonaro:
As we reported earlier, 30 million Brazilians didn't vote in this round.
Bolsonaro appeals to poor Brazilians in response to result
Andrew Downie reports for the Guardian that Jair Bolsonaro, speaking to the media in Brasilia, has promised to devote more time into convincing the poorest sectors of society they will be better off under a far-right government than a leftist one.
With four weeks until the run-off election on 30 October, Bolsonaro said, "I understand there were a lot of votes (cast) because of the condition of the Brazilian people, who feel prices increases, especially basic products. I understand that a lot of people desire change but some changes can be for the worst."
"We tried to show this other side in the campaign but it seems like it didn't register with the most important layers of society."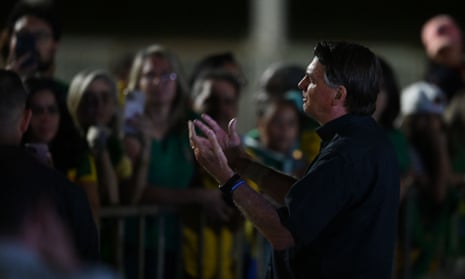 In a reference to his pandemic policy of keeping business open as much as possible, the anti-masker added, "We are now going to show the Brazilian people, especially those most affected, that it was a consequence of the policy of 'stay at home, we'll worry about the economy later,' of a foreign war, and an ideological crisis as well."
He once again said Brazil must avoid following neighbouring nations such as Chile and Colombia who recently elected leftist leaders but he pointedly refused to answer questions about possible voter fraud, after spending months casting aspersions on the security of the electronic voting machines.
Bolsonaro has hinted he will not leave office if defeated, raising concerns of a Trump-like insurrection among his supporters if Lula wins.
Brazilian sociologist Nara Roberta Silva has shared her take on tonight's surprising results, which supports Jill Langlois's reporting earlier, that centrist voters who had been expected to vote for neither Lula or Bolsonaro switched to Bolsonaro at the last minute. "The extreme right is here to stay," she said.
Lula wants just one thing for his birthday –he doesn't mind if it is a few days late:
"I have a birthday on the 27th, and the elections are on the 30th. This will be my gift. The next few days will be for us to improve more, talk to more people," he tweeted.
Lula is getting fired up for the next four weeks, tweeting in Portuguese, "I love campaigning. And we have 28 more days. I love doing rallies, getting on a truck. And it will be the first opportunity to have a face-to-face debate with the current president. So that we can make comparisons between the Brazil he built and the Brazil we built."
Mexican President Andrés Manuel has congratulated Lula – he does not seem to be aware that there will be another round of voting.
Tweeting in Spanish, Manuel wrote, "Congratulations, brother and companion Lula. The people of Brazil demonstrated once again their democratic vocation and, especially, their inclination for equality and justice."
US Secretary of State Anthony Blinken has congratulated Brazil on a "successful first round election", and said that the US trusts the next round will go as smoothly: