Major incident declared in London following surge in fires
The London fire brigade has declared a major incident in response to a huge surge in fires across the capital today, mayor of London Sadiq Khan has tweeted.
He writes: "This is critical. London Fire is under immense pressure. Please be safe."
Khan added that he is in touch with the commissioner and will share further updates when these are available.
In a separate tweet, Khan outlines how to avoid fires, including avoiding barbecuing on grass or balconies, leaving broken bottles or glass on grass (it can start fires), disposing of cigarettes safely and reporting fires as soon as they are seen.
Key events:
Temperatures in various places across the UK have now risen past 40C. Here are the latest as of 3pm:
Coningsby —40.2C
Heathrow —40.2C
Kew Gardens — 40.1C
Northolt — 39.9C
Cambridge — 39.9C
St James's Park, London — 39.9C
It's been a busy day of record-breaking temperatures, fires, travel chaos and warnings from climate scientists that this is only the beginning of several decades of extreme temperatures, even if we keep reducing emissions.
Here are the day's main events:
Met Office data showed that the UK had its first ever day of temperatures over 40C, with Heathrow recording 40.2C at 12.50pm. This followed the hottest ever night recorded, with temperatures failing to dip below 25C in some parts, but relief should arrive shortly in the shape of thunderstorms on Wednesday, the forecaster said.
The London fire brigade declared a major incident in response to a huge surge in fires across the capital.
At the time of writing, a number of train cancellations have taken place, with all services out of London Euston and Birmingham New Street suspended.
Police confirmed that a man in his 20s died while swimming in a lake at Cotswold water park, prompting warnings that people should avoid swimming in open water that is not supervised.
The World Meterological Organization warned that heatwaves are already having a major impact on human health and nations' economies, and that extreme temperatures will continue until at least the 2060s, even in the best possible emissions reduction scenarios. The WMO emphasied the need for countries to reduce their reliance on fossil fuels.
Speaking to cabinet in front of TV cameras, Prime Minister Boris Johnson claimed that the heatwave vindicated the government's decision to push for net zero carbon emissions by 2050.
I'm handing over to my colleague Geneva Abdul who'll keep you updated for the rest of the afternoon. Thanks for following today.
Fire crews have battled hundreds of wildfires across the country as temperatures topping 40C transformed fields and grassland into a "tinderbox".
PA Media reports:
One regional service said the number of open fires could have tripled this week, while the Met Office warned that most of England was at exceptional risk.
Some were forced to evacuate their homes, and the National Trust admitted it was on "tenterhooks" over the possibility of a large-scale blaze.
On Monday, Essex county fire and rescue service received three times its average number of calls, which a spokesperson said was driven by wildfire reports.
In neighbouring Hertfordshire, drone footage showed the smouldering remains of a 200-acre field after crews worked into the early hours to extinguish the blaze.
One blaze, at Lickey Hills Country Park near Birmingham, spread to around 50,000 sq metres and forced 15 people to flee their homes.
Its cause has not been formally established, but a post on the park's Facebook page claimed it was sparked by a disposable barbecue.
West Midlands fire service received 717 incident calls on Monday – an increase of 280 in the space of a week.
Smoke drifted over the M25 as almost 200 firefighters and 30 fire engines tried to extinguish a corn field blaze in Upminster, east London.
Hereford & Worcester crews had 54 fires based around fields, undergrowth and woodland, which it said was a "much higher number" than normal.
Nottinghamshire fire and rescue service has seen a "significant increase" in grass fires over the last month, with numbers rising even further this week.
According to the Met Office, most of England is at "exceptional" risk of wildfires, aside from the south-west and patches of the north.
Trains between London Euston and Milton Keynes suspended
All trains between London Euston and Milton Keynes have been suspended as emergency services deal with a lineside fire.
PA Media reports:
The blaze was caused when 25,000-volt overhead electric cables came down in Harrow.
Network Rail said all services to and from London Euston are suspended until further notice.
James Dean, Network Rail's West Coast South route director, said:
As predicted the extreme temperatures have impacted the overhead cables on the West Coast main line and all trains have had to be stopped at Harrow in north London.

Please follow our 'do not travel' message today as journeys are being severely impacted. Once the emergency services give us the go ahead we will work as fast as we can to restore the railway lines. We're sorry to people impacted and we're working as fast as we can to get things back up and running.
All trains have also been stopped at Birmingham New Street station after a power line fault. Network Rail said its rapid response team is dealing with a fault involving the overhead electric cables outside the station.
On the @LondonFire Twitter account, the London fire brigade is detailing all the fires taking place across the capital.
Recent posts from the past two hours include the blaze in Wennington, near Rainham, Essex, as well as a household fire and two grass fires in Croydon, a grass fire in Upminster, a restaurant fire in Southgate and another fire in Green Lanes.
One tweet reads:
We've called for an urgent ban of disposable barbecues in parks & public spaces as firefighters continue to feel the effects of unprecedented heatwave temperatures for a second day. It comes as we've attended more than 1,000 grass fires since June.
Following the London fire brigade's declaration of a major incident in London, it has emerged that around 100 firefighters are tackling a huge blaze in east London.
PA Media reports:
Television footage showed thick black smoke billowing into the air, with buildings and fields on fire on Tuesday afternoon in the village of Wennington.
London fire brigade said 15 fire engines and about 100 firefighters were called to the scene just after 1pm.
It came as temperatures in the area hit around 40C.
At least one home appeared to be completely destroyed in the blaze, while smoke covered a wide area. Nearby fields were seen to be scorched.
The fire brigade said on Twitter: "We've got 15 fire engines and around 100 firefighters dealing with this blaze on The Green in Wennington."
Major incident declared in London following surge in fires
The London fire brigade has declared a major incident in response to a huge surge in fires across the capital today, mayor of London Sadiq Khan has tweeted.
He writes: "This is critical. London Fire is under immense pressure. Please be safe."
Khan added that he is in touch with the commissioner and will share further updates when these are available.
In a separate tweet, Khan outlines how to avoid fires, including avoiding barbecuing on grass or balconies, leaving broken bottles or glass on grass (it can start fires), disposing of cigarettes safely and reporting fires as soon as they are seen.
If you appreciated World Meteorological Organization general secretary Petteri Taalas' tie earlier (pictured again below), which represents climate change, it's based on a viral data visualisation produced in 2020.
Produced by climate scientist Professor Ed Hawkins at the University of Reading to start conversations about climate change, the piece is called Climate Stripes.
It uses a simple pattern of coloured stripes generated by the latest scientific data that represents the increase in temperatures since 1850, one stripe per year, with dark blues used for colder years, and dark reds for warmer years. This makes it easy to see how the earth is moving incrementally towards higher global temperatures and how this has accelerated rapidly in recent years.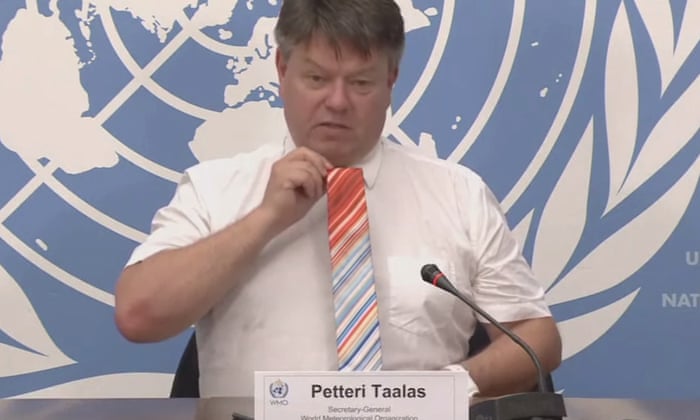 Supermarkets have shared their sales figures for all the summer essentials: fans, ice cream, paddling pools and burgers.
Here are the key figures:
Waitrose has had its biggest week for ice creams, with sales up 36% year on year, while premium ice cream sales are up 45% year-on-year.
John Lewis's sales of fans and air conditioning units are up 709% year on year.
Asda sold at least 4.5m sausages and 1.4m burgers last week, while charcoal sales increased by 400%.
Sales of ready-to-drink spirits in Asda were up 72% compared with an average week, while fan sales increased by 1,300%.
Asda reported paddling pool sales increased by 1,000% compared with the same time the previous week.
Morrisons said last week was its biggest week for ice cream sales in more than five years, while sales of bags of ice are up 50% year on year.
The heatwave sales bounce isn't consistent across the food and drink retail industry, however. Hotel Chocolat chief executive Angus Thirlwell told the PA Media news agency that online chocolate deliveries are suspended.
Thirlwell said:
It's not great weather for a chocolate maker. It's typical to suspend chocolate deliveries within the online business when there's excessive heat. There's no point in sending them if they're just going to melt.
According to the Met Office, the entire stock of a Liverpool chocolate factory melted during a hot spell in August 1990.
Britain must "keep ramping up the specification" of its railways to cope with extreme temperatures, transport secretary Grant Shapps said.
He told the PA Media news agency:
We probably have the most resilient rail network we've ever built, ever had.

But because the spec (specification) has been minus 10 degrees to plus 35 degrees – and we're now suffering 40 degrees plus – clearly we need to keep ramping up the specification.

But as new lines go in, as new overhead cables go in, all of that is now spec'd at a higher level than it would have been when those electric cables originally went in.

We need to drive up the standards. We're going to see these events more frequently, and as a result we need to be ready.
Environmental groups have responded to the record-breaking temperatures with warnings that the candidates for the Tory leadership must prioritise tackling the climate crisis.

Commentators have criticised the candidates for not taking strong enough stances on climate change so far, with the main hope said to lie in Liz Truss.
Mike Childs, head of science, policy and research at Friends of the Earth, said:
As communities across the UK face unprecedented temperatures, the government's climate strategy was yesterday found to be unlawful and inadequate in the courts.

Candidates vying for Conservative party leadership cannot ignore the vital importance of curbing the climate and nature crises.

We need climate action that goes further, and faster, so that the next generation has a world left to inherit.
Greenpeace UK's head of politics, Rebecca Newsom, said:
It's clear to everyone that urgent action to cut emissions must be taken, but the four Tory candidates are staying conspicuously quiet on the matter.

This life-threatening heat is just a taster of what's to come unless the next prime minister delivers the concrete policies that will transition the UK away from fossil fuels, cut bills, boost cheap renewables and green our homes.

Failure to do so won't just lose the Conservatives votes at the next election – it will threaten the future of our society as we know it.
You can read about the Tory candidates' climate change stances here:
A man in his 20s has died while swimming in a lake at Cotswold Water Park
A man in his 20s has died while swimming in a lake at Cotswold Water Park.
PA reports:
Police were called shortly after 6pm on Monday to a large lake in Ashton Keynes near Hoburne Cotswold Holiday Park and Whitefriars Sailing Club, in Wiltshire.
Firefighters and police officers attended the scene but the man was confirmed dead shortly after being pulled from the water.
His death is not being treated as suspicious.
The park, run by Planning Solutions, is an area of more than 40 square miles with 180 freshwater lakes.
A tweet posted by Cotswold Country Park on Monday, several hours before the incident, said:
In this heat, it is tempting to want to swim in the Cotswold Water Park lakes.

They may look inviting but many can be dangerous.

If you fancy a dip, please put your safety first and find a lake that is specifically managed for open water swimming.
The Met Office has posted a video showing how a line of showers is moving north and east on the latest radar sequence.
At the moment the rain is falling onto very dry air so very little of it is reaching the ground.
There's been a lot of discussion in the press conference about how work dress codes should adapt to the changing weather patterns.
Asked for his views on heatwave appropriate clothing, WMO head Taalas said he personally opted to wear a tie which illustrated the way the global temperature has increased over the last 150 years.
"You can see that in the past we had a lot more blue, and today we have more red colour, which indicates the way heatwaves have become more frequent," he said.
Here's the tie – we don't know where it's from or if it's bespoke, unfortunately.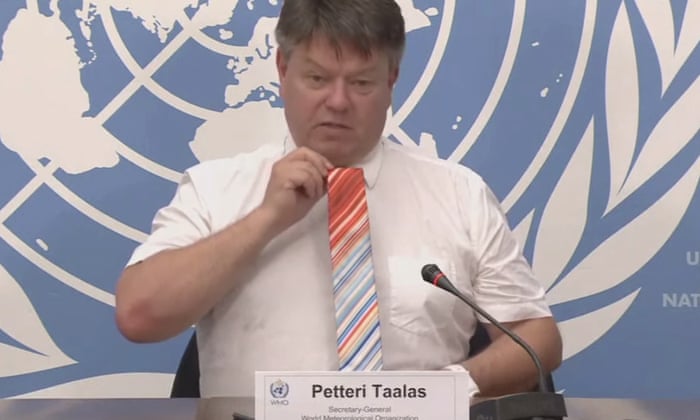 A swimmer is missing at sea and five others have been pulled from the water close to Clacton Pier in Essex, the Coastguard said.
PA Media reports:
Emergency services have been called to the scene and a major search and rescue is under way to find the man after six people got into difficulty off the coast.
Nigel Brown, communications manager for Clacton Pier, told PA the current dragged a group of swimmers towards the pier.
Staff threw lifebelt rings over the side to help those in trouble, he said.
He said:
Eight of them were in the water but my understanding is four or five got into difficulty.

My understanding is one person was missing.

The group that were in the water were very worried about one person they couldn't see and were saying, 'There's one missing'.

As far as I know, that person's still missing. They've had the helicopter up.
Brown said it was "difficult to tell their ages" but he believed some were in their late teens and early 20s and fully clothed.
Essex police said:
We're on the scene assisting emergency services colleagues with a serious and ongoing incident close to Clacton Pier.

There is a significant emergency services presence in the area while the incident is being dealt with. We'll provide an update as soon as we practically can.
The Coastguard said it was responding to "a report of multiple people in the water".
Thunder, lightning and downpours bringing cooler temperatures have been met with relief by Cornwall residents.
PA Medua reports:
As temperatures passed 40C for the first time in the UK, storms cooled Cornwall and the Isles of Scilly, with the Met Office forecasting temperatures in the low 20s in Penzance on Tuesday.
The Met Office reported a high of 34.2C on Monday.
Other regions in Cornwall that experienced thunder and lightning included The Lizard peninsula, in the south, and Mount's Bay, Penzance, and many social media users shared footage of forked lightning striking off the coast.
Rich countries shouldn't blame oil and gas producing nations for climate change because "we as consumers are also responsible", said Taalas.
It will be a major challenge for oil-producing countries such as Qatar if we reduce consumption of fossil fuels in future, he said. "It's not an easy question for Qatar-type of countries."
Taalas has been clear that all countries must move away from dependence on fossil fuels and move towards renewables throughout the press conference.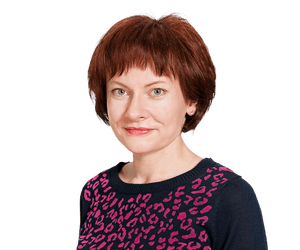 Libby Brooks
The Guardian's Scotland correspondent, Libby Brooks, has a summary of what the high temperatures mean for Scotland today:
Scotland could see its highest day on record, beyond the 32.9C set at Greycrook in the Scottish Borders in August 2003, according to the Met Office, after temperatures passed 30C in Edinburgh and parts of Aberdeenshire on Monday.
An amber warning for extreme heat remains in force across parts of Scotland until midnight, with the risk of wildfires in eastern and southern areas raised to "very high" until Friday. Visitors to Loch Lomond and the Trossachs national park have been urged to take care in the water, and be especially aware of the risk of cold water shock on particularly hot days like these.
Jennifer Leonard, water and land manager for the Scottish Environment Protection Agency (Sepa), said the country was "on a countdown to significant water scarcity", with the prospect of suspending authorisation for businesses that use large amounts of water.
The agency is already liaising with businesses that make significant use of water – for example agriculture, golf courses, whisky manufacture and hydro-power – to advise them how to manage supply and plan ahead.
"Scotland is already seeing the impact of climate change with an increase in water scarcity and also localised flooding over the past few years," said Leonard.