Key events
The Russian president, Vladimir Putin, says the Russian navy will receive hypersonic Zircon cruise missiles within the next few months, Reuters reports.
Speaking on Russia's Navy Day in St Petersburg, he said that the area of their deployment would depend on Russian interests.
Putin did not mention Ukraine directly, but said he had signed a new navy doctrine and touted the Zircon hypersonic cruise missiles as unique in the world.
He said:
"The delivery of these (missiles) to the Russian armed forces will start in the coming month.

"The Admiral Gorshkov frigate will be the first to go on combat duty with these formidable weapons on board.

"The key thing here is the capability of the Russian navy… It is able to respond with lightning speed to all who decides to infringe on our sovereignty and freedom.
Hypersonic weapons can travel at nine times the speed of sound, and Russia has conducted previous test-launches of the Zircon from warships and submarines over the past year.
Russia said it has invited United Nations and Red Cross experts to probe the deaths of dozens of Ukrainian prisoners of war held by Moscow-backed separatists, Reuters reports.
It comes after at least 50 prisoners of war were killed in an attack on a jail in Olenivka, in Russian-occupied Donetsk, on Friday. Both sides in the war have blamed the blast on each other.
Russia invited experts from the U.N. and Red Cross to probe the deaths "in the interests of conducting an objective investigation", the defence ministry said on Sunday.
The ministry had published a list of 50 Ukrainian prisoners of war killed and 73 wounded in what it said was a Ukrainian military strike with a U.S.-made High Mobility Artillery Rocket System (HIMARS).
Ukraine's armed forces denied responsibility, saying Russian artillery had targeted the prison to hide mistreatment there. Foreign Minister Dmytro Kuleba said on Friday Russia had committed a war crime and called for international condemnation.
Six injured after Ukrainian drone flies into Russian Black Sea fleet HQ, reports say
AP reports that the drone which flew into the Russian headquarters of its Black Sea fleet has injured six people.
We reported earlier that five people had been wounded but Sevastopol mayor Mikhail Razvozzhaev has said six people were injured in the blast.
The black sea fleet's press service said the drone appeared to be homemade and described the explosive device as "low-power".
The Ukrainian president, Volodymyr Zelenskiy, has said the country's harvest could be half its usual amount this year.
He posted on Twitter: "Ukrainian harvest this year is under the threat to be twice less. Our main goal — to prevent global food crisis caused by Russian invasion. Still grains find a way to be delivered alternatively."
He also posted a link to a video from United24, the country's crowdfunding platform, which states that Ukraine was the second largest supplier of grain for the EU in 2021. But it says that since February "Russia has been doing everything to keep Ukraine from getting its grain to the rest of the world."
The latest daily assessment from the UK Ministry of Defence states that Russia fired at least 20 missiles into northern Ukraine from Belarusian territory on 28 July 2022.
The death toll from a strike on a bus stop in the southern city of Mykolaiv on Friday climbed to seven after two men died in hospital, Ukraine authorities said.
Reuters reported them saying Russian bombardments targeting the south and east of the country on Saturday had left another dead in Mykolaiv and one dead in Bakhmut.
In Ukraine's second city of Kharkiv, in the north-east, three Russian S-300 missiles struck a school, the mayor, Igor Terekhov, said on Telegram, adding that the main building was destroyed.
A Ukrainian spokesman said its forces had set fire to grain fields around Mariupol so they could not be used by Russian forces.
Sergiy Bratchuk, a spokesman for the Odessa regional military administration, said:
The Mariupol resistance forces set fire to the fields with grain so that it would not be stolen by the occupiers.
Ukraine's military said more than 100 Russian soldiers had been killed and seven tanks destroyed in fighting in the country's south on Friday.
The area includes the Kherson region that is the focus of Kyiv's counteroffensive in that part of the country and a key link in Moscow's supply lines.
Rail traffic to Kherson over the Dnipro River had been cut, Reuters reported the military's southern command as saying on Saturday, potentially further isolating Russian forces west of the river from supplies in occupied Crimea and the east.
South of the town of Bakhmut, which Russia has cited as a prime target in Donetsk, the Ukrainian military said Russian forces had been "partially successful" in establishing control over the settlement of Semyhirya by storming it from three directions.
"He established himself on the outskirts of the settlement," the military's evening report said, referring to Russian forces.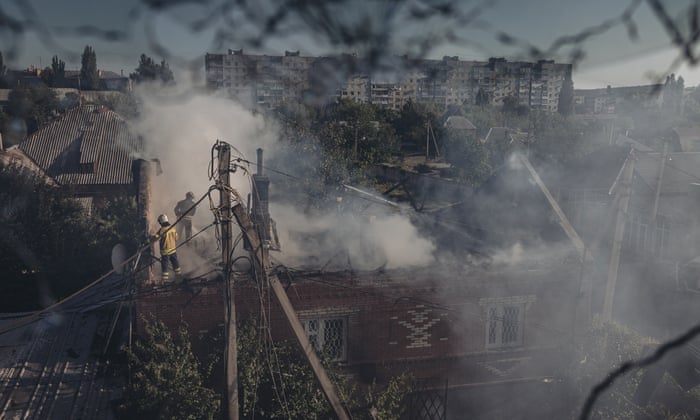 Defence and intelligence officials from Britain portrayed Russian forces as struggling to maintain momentum.
The Kherson region's pro-Ukrainian governor, Dmytro Butriy, said fighting was continuing in many parts of the region, and that Berislav district, just north-west of the Kakhovka hydroelectric plant, was particularly hard hit.
He wrote on Telegram:
In some villages, not a single home has been left intact, all infrastructure has been destroyed, people are living in cellars.
Just to the north of Lysychansk, which Moscow's forces captured in early July, Ukrainian partisans destroyed a railway junction box near the Russian-controlled town of Svatove on Friday night, making it harder for Moscow to transport ammunition to the front lines by train, Luhansk's regional governor, Serhiy Gaidai, said in an online post.
Officials from the Russian-appointed administration running the Kherson region earlier this week rejected western and Ukrainian assessments of the situation.
Latvia urges EU to declare Russia a terrorism sponsor
Latvia's foreign minister has urged the European Union to declare Russia a state sponsor of terrorism.
Edgars Rinkēvičs also said in a tweet that he condemned the "brutal murder of Ukrainian POWs by Russian Armed Forces in Olenivka and ongoing atrocities committed by the Russian military against Ukraine".
He urged the EU to ban tourist visas for Russians.
Rinkēvičs' comments came after at least 50 prisoners of war were killed in an attack on a jail in Olenivka, in Russian-occupied Donetsk, over which Ukraine and Russia have traded blame.
Rinkēvičs said in his tweet:
EU must consider Russia as state sponsor of terrorism, I reiterate proposal to impose EU tourist visa ban for [Russian] citizens.
Ukraine's deputy prime minister, Iryna Vereshchuk, has said the evacuation of people from the eastern Donetsk region needs to take place before winter begins since the region's natural gas supplies have been destroyed.
She was quoted by domestic Ukrainian media outlets while, separately, President Volodymyr Zelenskiy said his government was ordering the mandatory evacuation in Donetsk, the scene of fierce fighting with Russia.
Reuters reported him saying in a television address that hundreds of thousands of people still in combat zones in the larger Donbas region – which contains Donetsk as well as the neighbouring Luhansk region – needed to leave.
He said:
The more people leave [the] Donetsk region now, the fewer people the Russian army will have time to kill.
Residents who left would be given compensation, Zelenskiy said.
Many refuse to leave but it still needs to be done.
Five injured as drone hits Russia's Black Sea fleet HQ
A drone flew into the Russian headquarters of its Black Sea fleet, injuring five people, the governor of Sevastopol said.
Russia's state-run Ria-Novosti news agency quoted Mikhail Razvozzhaev as also saying all festive events in honour of the Navy Day in the city had been cancelled for security reasons.
Hello and welcome to the Guardian's continuing coverage of the war in Ukraine. Here's a summary of the latest developments as it just passes 9am in Kyiv on this Sunday 31 July 2022.
Ukrainian officials have denounced a call by Russia's embassy in Britain for fighters from the Azov regiment to face a "humiliating" execution, Agence France-Presse reported. Twitter said the embassy had violated its rules on "hateful conduct" but put a warning on the tweet rather than ban the post about the Azov, a Ukrainian battalion that retains some far-right affiliations. Andriy Yermak, the head of the Ukrainian presidency's office, responded on Telegram on Saturday: "In the 21st century, only savages and terrorists can talk at the diplomatic level about the fact that people deserve to be executed by hanging. Russia is a state sponsor of terrorism. What more evidence is needed?"
Renewed Russian strikes on Ukraine's frontline have left one person dead in the south of the country and also hit a school in Kharkiv, officials said. The mayor of the southern city of Mykolaiv said one person was killed when rockets pounded two residential districts overnight, AFP reported. In Ukraine's second city of Kharkiv, rockets from an S-300 surface-to-air system destroyed part of an educational facility, local authorities said.
The Ukraine president, Volodymyr Zelenskiy, has called for the evacuation of the eastern Donetsk region of Ukraine, which has seen fierce clashes between his country's forces and the Russian military. The governor of Donetsk, where Moscow is focusing the brunt of its offensive, said six civilians were killed and 15 wounded by strikes on Friday. Zelenskiy said in his daily address: "There's already a governmental decision about obligatory evacuation from Donetsk region. Please, follow evacuation." Zelenskiy said thousands of people, including children, were still in the battleground areas of the Donetsk region.
The Ukrainian military said it had killed scores of Russian soldiers and destroyed two ammunition dumps in fighting in the Kherson region, the focus of Kyiv's counter-offensive in the south and a key link in Moscow's supply lines. Reuters reported the military's southern command as saying rail traffic to Kherson over the Dnipro River had been cut, potentially further isolating Russian forces west of the river from supplies in occupied Crimea and the east.
Gazprom has suspended gas supplies to Latvia following tensions between Moscow and the west over the conflict in Ukraine and sweeping sanctions against Russia, AFP reports. The company drastically cut gas deliveries to Europe via the Nord Stream pipeline on Wednesday to about 20% of its capacity. European Union states have accused Russia of squeezing supplies in retaliation for western sanctions over Moscow's invasion of Ukraine.
Russia announced it was banning 32 New Zealand officials and journalists from entering its territory, in response to similar measures taken by Wellington against Moscow over its invasion of Ukraine, AFP reported. Among those subjected to sanctions are the mayor of Wellington, Andrew Foster; the mayor of Auckland, Philip Goff; the commander of New Zealand's navy, Commodore Garin Golding; and the journalists Kate Green and Josie Pagani, Russia's foreign ministry said in a statement.
The United States ambassador to the United Nations said on Friday there should no longer be any doubt that Russia intended to dismantle Ukraine, Reuters reported. Linda Thomas-Greenfield told the UN security council that the US was seeing growing signs of Russia laying the groundwork to attempt to annex all of the eastern Ukrainian regions of Donetsk and Luhansk and the southern Kherson and Zaporizhzhia regions.
Russia is "running out of steam" in its war on Ukraine, the chief of Britain's MI6 intelligence agency, Richard Moore, said in a brief comment on Twitter on Saturday. Moore made the remark above an earlier tweet by the Ministry of Defence that said the Kremlin was "growing desperate".
Russia and Ukraine have both launched criminal investigations into strikes that have reportedly killed at least 50 Ukrainian prisoners of war who were held at a pre-trial detention centre in the village of Olenivka, after both countries blamed the other side for the attack. The UN is prepared to send a group of experts to Olenivka to investigate the incident, if it gets consent from both parties.
Ukraine's foreign minister, Dmytro Kuleba, has accused Russia of a "petrifying war crime" over the killings and called on world leaders to "recognise Russia as a terrorist state".
Ukraine has said it is ready for grain exports to leave its ports again but is waiting for the go-ahead from the UN.