US to denounce 'sham refererendums' at UN security council
The United States will introduce a resolution at the U.N. Security Council calling on member states not to recognise any change to Ukraine and obligating Russia to withdraw its troops, U.S. ambassador Linda Thomas-Greenfield said.
Key events
My colleague Andrew Roth has tweeted that there is "no real point in reporting the 'results' of 'referendums' being held at gunpoint in occupied territories", but he has written an explainer for us on what has taken place … and what might happen next:
Russia concluded holding a fake "referendum" on the occupied territories of Ukraine in four regions: Donetsk, Luhansk, Kherson, and Zaporizhzhia in which they demanded voters request accession into the Russian Federation. Armed Russian soldiers oversaw the votes in the occupied Ukrainian territories, where many people who support the Ukrainian government have fled Russian control. Ukrainians have descried it as a vote held at gunpoint. As expected, Moscow got the "results" it wanted. With a rubber-stamped (and universally unrecognised) request for accession in hand.
Many expected Putin to address the Federation Council on Friday, 30 September, with a decision to formally annex the territories. By law, those treaties must first be presented to the Federation Council, the upper body of Russia's parliament, and then to Putin for a signature.
That could be organised in short order. But now the Federation Council has indicated that it won't hold a special session on Friday. If that's true, then the next planned session would take place on 4 October.
That may indicate that Russia is taking a pause to dangle negotiations with Kyiv and the west in order to slow down Ukraine's advance. Or that it is testing local support for an annexation. But with little trust in the Russian president abroad, a deal seems unlikely and annexation appears the most likely outcome.
Read more of Andrew Roth's explainer here: Will Russia annex the occupied Ukrainian territories this week?
The UK's ministry of defence says in its daily intelligence briefing that "Russia is mounting a more substantive defence than previously" as Ukraine attempts to press forward "on at least two axes east". It writes:
Ukraine has pressed its offensive operations in the north-east of the country over the last few days. Units are making slow advances on at least two axes east from the line of the Oskil and Siverskyi Donets rivers, where forces had consolidated following their previous advance earlier in the month. Russia is mounting a more substantive defence than previously, likely because the Ukrainian advance now threatens parts of Luhansk Oblast. Heavy fighting also continues in the Kherson region where the Russian force on the right bank of the Dnipro remains vulnerable.
Vyacheslav Volodin, the chair of Russia's state Duma, has hailed the "results" in the widely derided "referendums" staged by Russian proxy authorities in occupied regions of Ukraine.
Tass reports that on his Telegram channel he said of the outcome of the so-called referendums, seen as a foregone fixed conclusion by most observers, that "the adopted decision saves millions of people from genocide".
Posting a graphic of what the authorities have claimed are the results, he said this "gives us the opportunity together to make plans for the future".
Sweden's foreign minister Ann Linde has said on the public television broadcaster SVT this morning that the suspected sabotage against the Nord Stream gas pipelines does not constitute an attack on Sweden, Reuters reports.
If you missed it yesterday, my colleague Dan Sabbagh offered this analysis, suggesting that even if European nations decided that Russia had been behind the action, it was unlikely to generate a military response, since the suspected explosions were outside of Danish territorial waters, and technically on assets owned by Russia's Gazprom.
In the recently liberated villages of Kherson, citizens are left with the wreckage: destroyed houses, unexploded bombs, and fresh graves. Here are some photos from yesterday, taken as life continues inside conflict zones in Ukraine, via AFP/Getty photojournalists.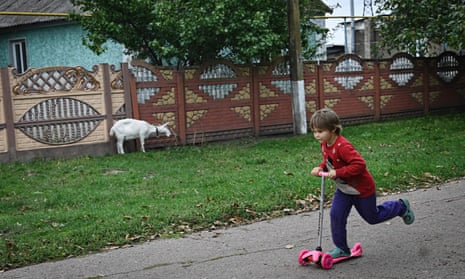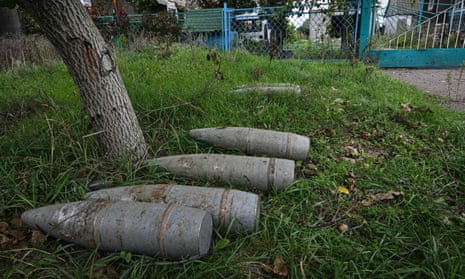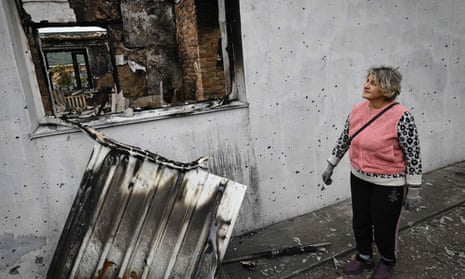 Russia's defence ministry said on Wednesday that newly mobilised reservists in the Kaliningrad region have started combat training at the base of Russia's Baltic Fleet, Reuters reports.
"All mobilised military personnel comply with the standards for shooting from small arms. In addition, citizens called up from the reserve restore their skills in the operation and maintenance of weapons, military and special equipment," the ministry said on its Telegram channel.
Rocketing inflation and dwindling gas supplies fuelled by Russia's invasion of Ukraine will hammer growth in the ex-Soviet bloc next year, Europe's development bank forecast Wednesday.
The European Bank for Reconstruction and Development has cut its 2023 growth guidance, AFP reports. It had previously forecast growth of 4.7 percent for its region, but is now set for growth of three percent next year.
"Negative factors related to high energy prices, the Ukraine war, inflation and the anticipated slowdown in western Europe, make the prospects for next year bleaker," chief economist Beata Javorcik told AFP in an interview.
Russian officials are "setting conditions to forcibly mobilize or conscript Ukrainian civilians in soon-to-be annexed areas of occupied Ukraine," thinktank the Institute for the Study of War has said in its latest daily analysis, released today.
According to the ISW, Ukrainian Luhansk Oblast head Serhiy Haidai reported on September 27 that Russian officials began consulting lists of medical school graduates in Luhansk to forcibly mobilise doctors to assist Russian forces.
Russian forces are also reportedly committing newly-mobilised, untrained men to the Kherson and Kharkiv Oblast frontlines, ISW says.
Poland and Bulgaria urge citizens to leave Russia
The governments of Bulgaria and Poland are urging any citizens that remain in the Russian federation to leave urgently. That may be in anticipation of border crossings becoming much more difficult as routes out close, and more people flee forced mobilisation in Russia.
The Ministry of Foreign Affairs of the Republic of Bulgaria said in a statement on Tuesday that it "calls for refraining from traveling to the Russian Federation and recommends that Bulgarian citizens in the Russian Federation consider the possibility of leaving the country as soon as possible, using currently available means of transport".
The Polish Foreign Ministry has made a similar statement, Polish outlet TVP reports, saying flights with Russia had been suspended and encouraging any remaining citizens to get out:
In case of a drastic deterioration of the security situation, the closure of borders or other unforeseen circumstances, evacuation may prove significantly impeded or even impossible…

We recommend that the citizens of the Republic of Poland who remain on the territory of the Russian Federation leave its territory using the available commercial and private means."
Russian authorities say they are establishing checkpoints at some of Russia's borders, to forcibly mobilise Russian men who are seeking to avoid forced mobilisation by fleeing the country. Russian minister of internal affairs for North Ossetia-Alania Andrei Sergeev said on Telegram that "the influx of light vehicles moving towards Georgia is seriously increasing" and that a "mobilization point of the military registration and enlistment office will be deployed at the checkpoint in the near future".
Thinktank the Institute for the Study of War (ISW) also cited social media footage showing Russian military vehicles moving toward the border, reportedly to establish the mobilisation checkpoint.
Other detail on reported Russian attempts to force fleeing men into the the army, from ISW:

The Russian Ministry of Defence denied rumours on September 27 that Russian officials asked the governments of Georgia, Kazakhstan, and other states to forcibly extradite Russian men fleeing mobilisation back to Russia. Kazakhstan's internal affairs minister, Marat Akhmetzhanov, told reporters that Kazakhstan would only extradite men who had committed a crime that is also illegal in Kazakhstan and were placed on an international wanted list but did not explicitly refute the rumour.
US to denounce 'sham refererendums' at UN security council
The United States will introduce a resolution at the U.N. Security Council calling on member states not to recognise any change to Ukraine and obligating Russia to withdraw its troops, U.S. ambassador Linda Thomas-Greenfield said.
Canadian Prime Minister Justin Trudeau has said the country will introduce further sanctions against Russia in response to the "sham" referendums held in occupied Ukrainian regions. Trudeau said the country was "actively engaging with our international partners and allies to ensure a united rejection" and that the country intended to "impose new sanctions on the persons and entities complicit in this latest attempt to undermine principles of state sovereignty".
Welcome back to our live coverage of Russia's war on Ukraine. I'm Tess McClure and I'll be with you on the liveblog as Europe wakes up. It's 7.30am in Kyiv. These are the latest developments:
Poland's foreign minister, Zbigniew Rau, has said Nato's response to any use of nuclear weapons in Ukraine should be non-nuclear but "devastating". His comments come after Dmitry Medvedev, the hawkish deputy chairman of Russia's security council, again threatened the west with the use of nuclear weapons in Ukraine, saying: "Imagine that Russia is forced to use the most formidable weapon against the Ukrainian regime, which has committed a large-scale act of aggression, which is dangerous for the very existence of our state. I believe that Nato will not directly intervene in the conflict, even in this situation."

President Volodymyr Zelenskiy has said Ukraine will "defend" its citizens in Moscow-held regions that authorities have claimed voted in favour of merging with Russia. Zelenskiy said in a video on Telegram: "We will act to protect our people, both in the Kherson region, in the Zaporizhzhia region, in the Donbas, in the currently occupied areas of the Kharkiv region, and in the Crimea."

Kremlin-backed officials in the four Ukrainian regions holding "referendums" claimed victory on Tuesday amid international condemnation of sham ballots.

Western countries have denounced the results. The US secretary of state, Antony Blinken, said the west would never recognise Russia's annexation of Ukrainian territory, which he called part of a "diabolical scheme" by Moscow. Nato denounced the referendums as a "sham" and "violation of international law".

European leaders have said sabotage is the most likely cause of leaks in two Nord Stream gas pipelines between Russia and Europe, after seismologists reported explosions around the Baltic Sea lines. Denmark's military issued an image of gas bubbling at the surface of the Baltic after the "unprecedented" damage to the pipelines.

The European Commission president, Ursula Von der Leyen, threatened the "strongest possible response" to any deliberate disruption of European energy infrastructure in the wake of the Nord Stream damage. Swedish police said they had launched a preliminary investigation into possible sabotage. Poland's prime minister, Mateusz Morawiecki, has called the leaks "an act of sabotage" that "related to the next step of escalation of the situation in Ukraine".

President Vladimir Putin is scheduled to address both houses of the Russian parliament on Friday and may use the address to formally announce the accession into Russia of the Ukraine territories that held referendums, the British Ministry of Defence said in its latest intelligence update. Putin said on Tuesday that Russia wanted to "save people" in the territories.

The United Nations human rights office has said Russia's invasion of Ukraine led to a wide range of human rights violations – including extrajudicial killings and torture – that could amount to war crimes, and had caused a dire rights situation. The Office of the High Commissioner for Human Rights said in a report that it was particularly concerned about torture and ill treatment of detainees by Russian forces and affiliated armed groups, but that there had been rights violations by both sides.

Georgia and Kazakhstan said that tens of thousands of Russians had flooded into their countries from neighbouring Russia as military-aged men avoid military call-up following Vladimir Putin's mobilisation.

Moscow said it would not request the extradition of Russians travelling abroad to avoid being called-up to fight in Ukraine.